Top 4 Best Road Trips From Chicago
Chicago, also known as the Windy City, is a metropolis center with thousands of things to do in a fast paced, lively environment with over 2 million residents. But sometimes, it is nice to take it slow and plan a weekend getaway.
Located on right Lake Michigan there are so many extraordinary outdoor adventures you can take right around the corner. AutoRentals.com has come up with their top four recommended road trips from Chicago, Illinois.
Whether you want to get away for the day, weekend, or entire week, these destinations are sure to help cure your cabin fever.
First on the list is Madison, Wisconsin
Distance from Chicago to Madison: roughly 2 hours and 32 minutes with tolls and 2 hours and 53 minutes without tolls.
If you've heard of Madison, Wisconsin you know they're famous for their cheese and recently craft beers – not to mention it's the state capital!
For a nice evening with beautiful scenery scroll the capital grounds located at 2 East Main Street, Madison, WI 53702 it is open to locals and visitors alike on weekdays from 8:00 a.m. to 6:00 p.m. and weekends and holidays from 8:00 a.m. to 4:00 p.m. In front you'll see the 1895 statue "Forward" by sculptress Jean Pond Miner. In the spring time there's ample flowers surrounding the building.
Once you make your way into the surrounding city there's ample parking, restaurants and places to grab a beer.  Casetta Kitchen, The Heights Kitchen, Marigold Kitchen, Eldorado Grill, Pasture and Plenty and Miko Poke, which serves Hawaiian-style rice, salad bowls & shaved ice, are all great places to grab a bite to eat.
Best craft beer options in Madison:
Nestled between Lake Mendota and Lake Monona, with Lake Wingra and Lake Waubesa also closeby there's plenty of outdoor adventures to be had. Many tourists choose to do the 12-mile loop around the lakes for picturesque views or choose a more leisurely day of boating on a pontoon.
Fishing is also another calming pastime where you can expect to pull in some catfish, bluegill, northern pike, trout and even some bullheads. Want something more action packed? Hop on a Jet Ski and travel to all three lakes while having a huge adrenaline rush.
Looking for a lakefront stay? We'd recommend this private downtown one bedroom apartment  Airbnb. It includes a novel electric barrel sauna, an outback grill, kayaks, a canoe, a paddle board, and an amazingly landscaped campfire space!
Grand Rapids, Michigan
Distance from Chicago to Grand Rapids: roughly 2 hours and 53 minutes with tolls and if you're looking to avoid tolls it'll just add two extra minutes to the trip.
Driving in you'll see the Blue Footbridge lit up, with lights reflecting off the water and the 1928 Spillman Carousel right across the river.
If you want to enjoy nature close to the city check out Millennium Park, part of the Kent County parks and trails, only 15 minutes from downtown. Here you can relish in the 1,400 acres of rolling terrain which includes beach access.
There's nearly 18 miles of trails that visitors can bike,jog, skateboard, walk or even rollerblade. Another great park to check out is The Highlands located at 2715 Leonard St NW, Grand Rapids, MI. With 2.6 miles of paved trails you can easily walk along and see hundreds of native prairie plants, in the winter the trails are perfect for snowshoeing or cross country skiing.
The best sandwich shop in town is Two Beards Deli, they also have a partner sandwich shop called Cherry Deli & Catering. Both serve sammies with fun names like The Van Dyke, which comes with turkey, pastrami, caramelized onions, roasted red peppers, smoked cheddar and roasted tomato garlic mayo on marble rye. They have plenty of vegan and vegetarian options, like the Bob Ross topped with portabellas, roasted red peppers, caramelized onions, smoked gouda, on a wheat panini.
This Downtown Artist Guest Studio in Grand Rapids, MI is a newly remodeled apartment set up in a multi-family residential home conveniently-located just off the freeway, and is an incredibly clean space with a contemporary feel.
Grand Rapids has recently come on the brewery scene and offers over 80 local breweries including Founders Brewing Co, it has been nicknamed Beer City USA. Beer enthusiasts can pick up a paper passport at the following breweries or get their passport by simply downloading the Beer City Brewsader app on Google Play, when you collect 8 stamps from any of the listed breweries you can earn a collectible t-shirt!
Make sure to submit your completed passport to the Welcome Center at the Grand Rapids Art Museum or if you're out of town mail it to 171 Monroe Ave NW, Suite 545 Grand Rapids, MI 49503.
Looking for a fun day trip? Grand Haven, which has ample access to Lake Michigan is a quick 36 minute drive from the city center. There you'll enjoy the many piers, lighthouses and fresh water beaches.
Next up is Mackinac Island, Michigan
One of Michigan's most unique vacation destinations this little island is only accessible by boat or ferry, the ride over is absolutely beautiful and there's free overnight parking available for those taking the ferry. The most popular choices are Shepler's Ferry and Starline Ferry, which depart from both Mackinaw City and St. Ignace. Adult tickets are $25 for a roundtrip, children 5-12 are $14 and kids under 5 ride free!
You'll be surrounded by the pristine blue waters of Lake Huron, and just to the North you can catch a glimpse of the Mackinac Bridge which stretches 26,372 feet, connecting the upper and lower Michigan peninsulas.
This island doesn't allow cars so you'll feel as though you've traveled back in time, the ample horse drawn carriages, small candy shops, and decorative bed & breakfasts that dot the island help create the ambiance. There are no hotel chains on the island so you'll be sure to have an authentic experience.
Fort Mackinac, a former British and American military outpost sits snuggy on top of the hill overlooking the main street. Tourists are welcomed to climb the steps, look out over the entire island and tour the old forts. They're set up how they would've been during the 18th and 19th century, complete with animated figures from the past who talk you through the medical and military history of the time.
Fudge has almost become synonymous with this small Michigan island, make sure you sample a few flavors before taking some home to share with friends and family! These are all the places on the island where you can pick some up: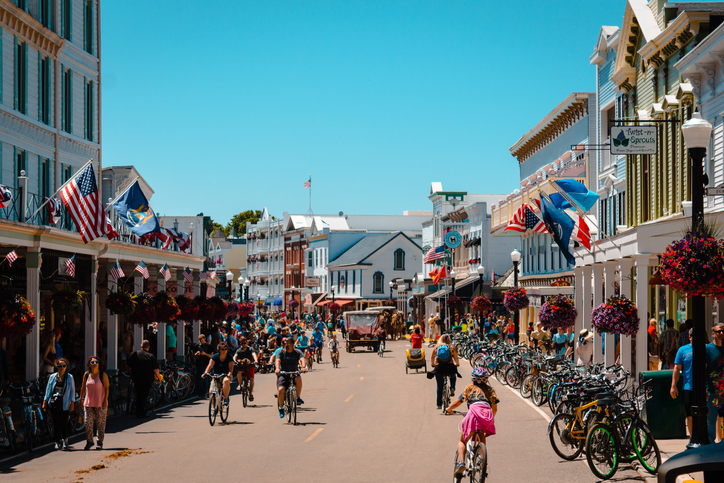 A must do is the Mackinac Island Outer Loop, it's an 8 mile circuit around the island. During the entire ride, walk or even run, if that's your preference, you'll see the clear blue and turquoise waters of the lake. Many people stop along the way to build cairns – on the other side of the path are green forests filled with wildlife. Take your time and wander through the many wooded paths!
To get around you can rent single or tandem bikes on the pier, it is quite the experience to jet around on a shared tandem! If you have little ones accompanying you there's also bike trailers and attachable booster seats for rent.
Want to take a hike? Mackinac Island State Park is in the center of the island and boasts three amazing nature trails:
British Landing Nature Trail
Brown's Brook on the west off M-185
Lake Shore Nature Trail on the east off M-185
Make sure to visit the renowned Arch Rock, a natural limestone arch formed during the Nipissing post-glacial period. It's a perfect place for a photo opt with the lake shining brightly behind it.
While you're in the area check out a few other great scenic stops including:
Many of these small towns boast Michigan's rolling, soft white sand dunes among other gems.
Whether you're doing a day trip or a long weekend to the beach AutoRentals.com recommends getting a Jeep, convertible or SUV rental. The first two allow you to cruise around with the wind blowing through your hair and the last gives you ample space for family or friends and all their beach supplies!
Renting a Chevrolet Suburban is a great option if you plan to cruise around Michigan and head up some dirt road trails. The full front window gives you ample space for sightseeing, so you won't miss a thing. Looking to skip out on the SUV and save gas?
AutoRentals.com recommends the Kia Sedona. This rental car comes with a sunroof and great Towing Capacity which is ideal if you'd like to hitch your trailer, boat or small RV to the back. The interior has enough space to bring the whole family along, complete with stain free fabric to ensure things don't get too messy!
Last but certainly not least, Shawnee Hills Wine Trail, Illinois
These stunning wine trails sit alongside the Shawnee National Forest in Southern Illinois. You can enjoy hundreds of different wines and learn how to bring cuisines to life with them. If you make your way into the little shops along the way you'll enjoy local delicacies from farmers and shopkeepers. This is the perfect date spot or destination for a fun  girls weekend getaway!
Need a place to stay? This cozy Airbnb cottage is just a few minutes from the trail, offering a monastery like design on the inside. It's the perfect place for espresso and coffee lovers, with an open floor plan and spacey kitchen.
Need more? There's also a hot tub, indoor fireplace, luxury bedding, spa robes, vinyl record player, a telescope for stargazing, firepits and a double hammock.
Here are just a few of the wineries and their pricing so you can start planning, and budgeting your next trip:
Need more road trip ideas? Try these articles by Thrillist, TripAdvisor and Travel+Leisure
Ready to get your rental vehicle and make the drive from Chicago? Make sure to visit AutoRentals.com's money saving matrix.
Other Blogs:
https://blog.autorentals.com/2020/05/top-4-best-road-trips-to-take-from-new-york-city/