Companies Helping Healthcare Workers
Amongst all the chaos it's been good to see so many companies step up to the plate and do their part to help during COVID-19. Hotels, Airlines and other companies around the world have begun pledging free services for our medical works on the front line of the outbreak. Here's just a few things they're doing.
Update April 7 2:57 PM: Both Hotels by Hilton and American Express have teamed up to Donate 1 Million Rooms to Frontline Medical Professionals During COVID-19 Crisis
The Hertz Corporation
This well-known car rental company has offered to provide free month-long vehicle rentals to medical workers in New York until April 30th.
So, if you have friends in the area that are in healthcare that might enjoy having a rental car to help get around send them to the website where they'll just have to complete the following three steps:

United Airlines
You can help support COVID-19 relief through United Airline's "Miles on a Mission". When you donate miles they go to a partner charity such as Be The Match® COVID-19 Rapid Response, a group that finds patients a genetically matched donor and then physically delivers the cells they need for transplant, and Operation USA COVID-19 Response.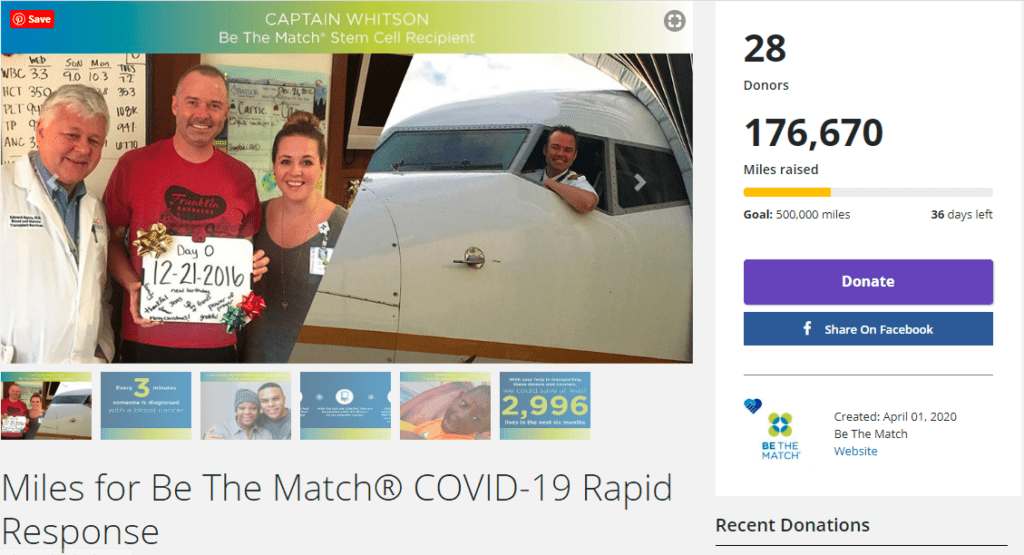 "Currently, OpUSA is working to: equip partners with masks, gloves, gowns and other personal protective equipment (PPE) and discposable medical supplies, which will immediately and effectively protect frontline workers;  deliver water, hand sanitizer, cleaning supplies adn other mitigation essentials to partners working to protect vulnerable groups, including youths, seniors and the homelesss; and distrubute grants and support funding to community parterns focused on bolstering food security, health and education amidst the distributions to lives and llivlihoods as a result of COVID-19."
jetBlue
Airlines have taken a hit during this time but they're still doing what they can to give back. JetBlue is offering free flights to medical volunteers heading into New York State right now. They're also aiding others displaced by the virus including students.
"To submit a request for your non-profit organization or a current college student in need, email reliefsupport@jetblue.com for consideration."
#WeAllMove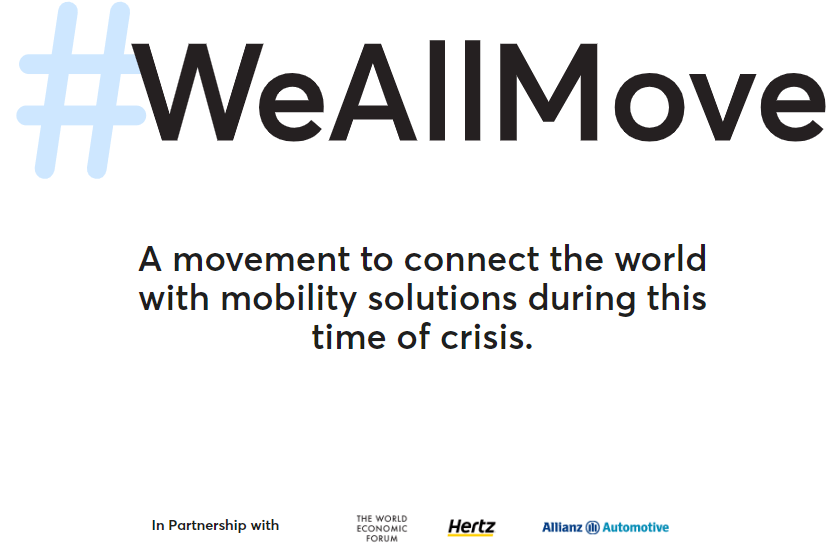 It's easy to use, just select the county and city in which you are looking for transportation and select your need. "Needs" include access to vehicles for grocery delivery, takeaway delivery, alternative commuting options and commute solutions for healthcare workers. With 30 partners around the world they can easily connect you. Not seeing what you need? You can also send them an email with your specific needs outlined. Follow their hashtag #WeAllMove and show your support!
Partners include companies like Arnab, Brite, Green Mobility, Hertz, Sixt and more!
Four Seasons New York
One of the first hotels on 57th Street to open its doors to healthcare workers, some of whom are currently going in for 18-hour shifts currently in New York. This offer extends to doctors, nurses and other medical personnel battling the coronavirus pandemic.
Other hotels have followed suit, Plaza Hotel, St. Regis New York, and Yotel have also committed to providing rooms to non-critical care patients and medical personnel.
The Room Mate Grace Hotel and the Wythe Hotel are still working on plans but hope to also be able to house healthcare workers during this time.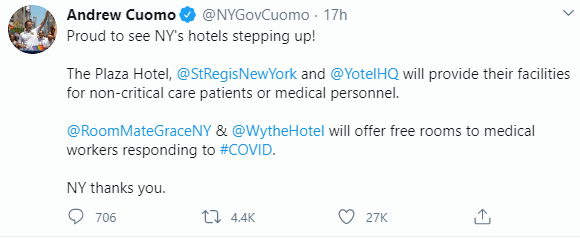 QEEQ
Previously known as EasyRentCars, is donating $1 to the COVID-19 Solidarity Response Fund for WHO for every person that signs up to get a FREE 10 pack of 3-layer disposable face masks, you just need to follow the steps and pay $9.50 shipping rate.
For more information on their contribution join their Facebook group that includes updates and other helpful information.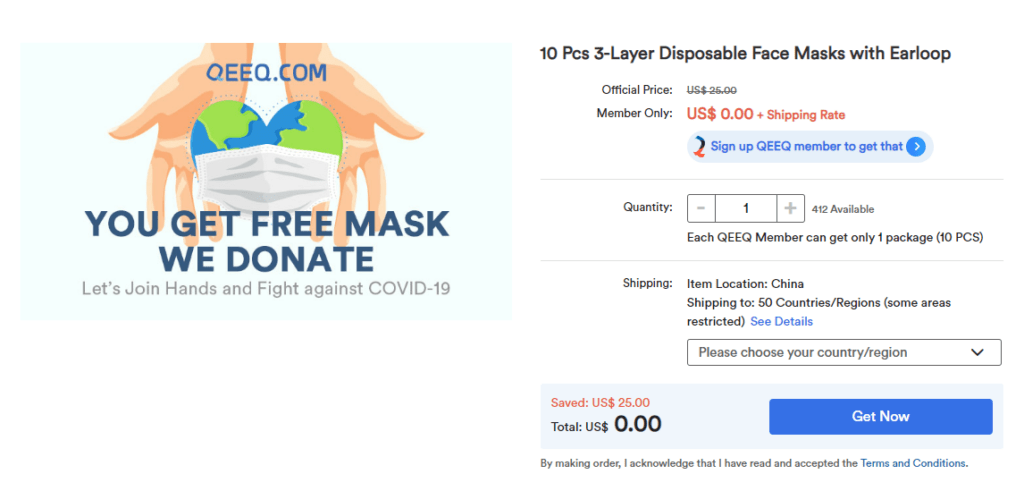 Green Motion ​
Green Motion has made multiple efforts to support those on the front line of the fight against COVID-19. Not only have they began offering massive discounts to those on the front line they've also temporarily changed their company name to "Home Motion" in an effort to bring attention to the importance of social distancing during this time.
If you are a healthcare worker, in emergency services or in the military you can get 50% off your rental vehicle with a valid ID at pickup. Just use the code thankyouheroes50 during checkout. For more information on how to do your part visit their Green Motion Car and Van Rental's Advice page.

Executive Car Rental
Starting April 8th, if you're a front-line worker of the coronavirus pandemic in Detroit, Michigan you can request a free rental car from Executive Car Rental. You'll need to pickup the rental from the Detroit Metropolitan Wayne County Airport, located at 9000 Middlebelt Rd, Wayne Co Detroit Met Airport, Romulus, MI 48174. This offer lasts until April 30th, so make sure to send your requests to their Customer Care Department prior to that date.
In addition, the company is also providing much needed supplies to in-hospital healthcare workers including masks and gloves.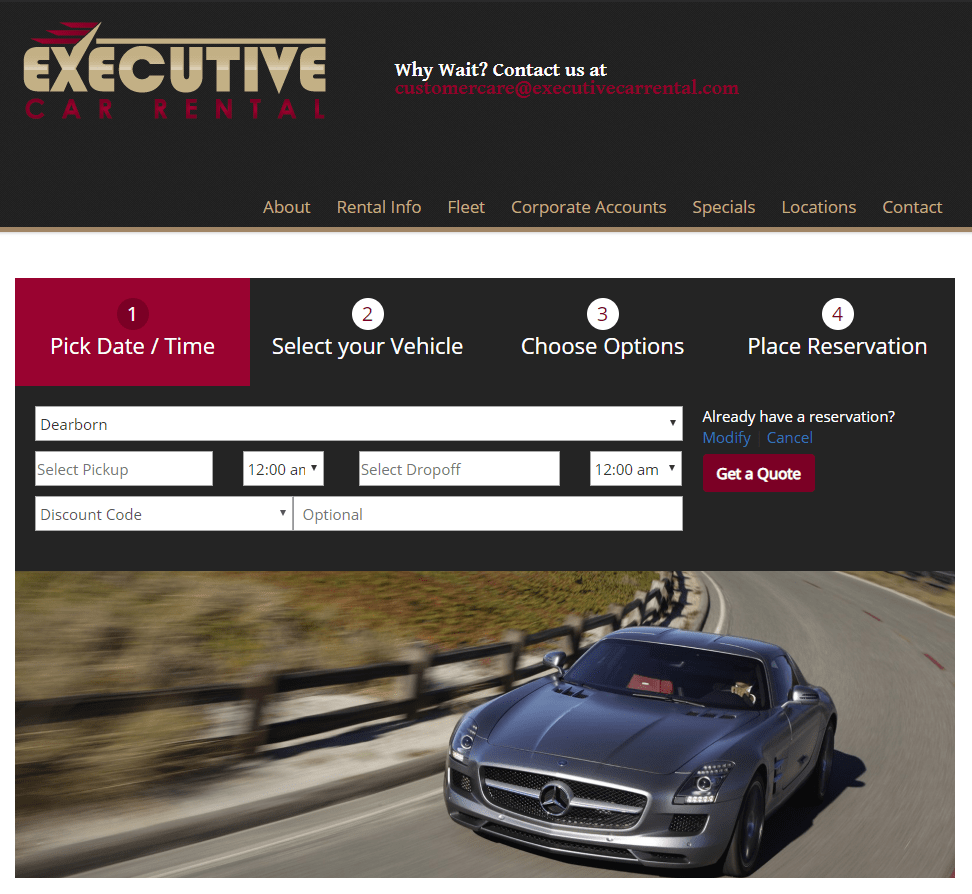 Europcar Mobility Group
Europcar Mobility Group launches the "Together" program to support the mobility of health care workers during the COVID-19 crisis. They will provide healthcare personnel (doctors, nurses, etc.) with access to a pool of 200 vehicles for their occasional mobility needs without rental fees. The Group's car rental brands — Europcar, Goldcar, and InterRent — as well as the GoCar carsharing service.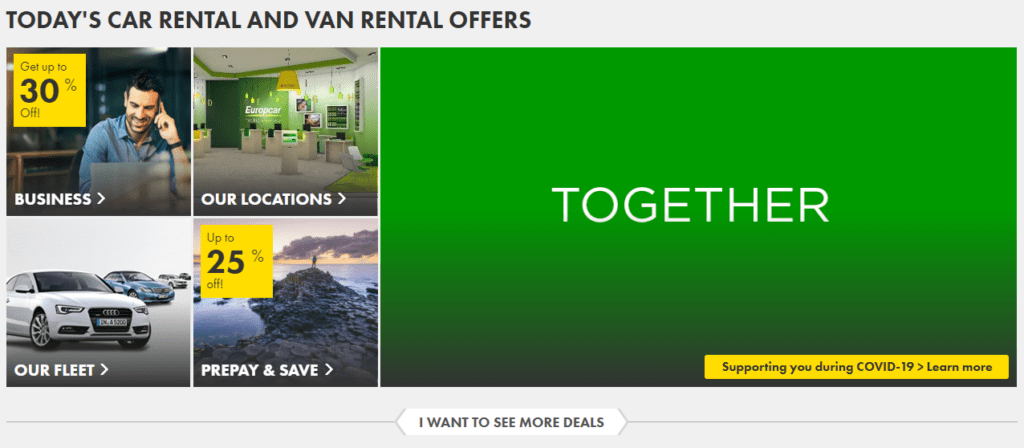 This initiative also includes "van and driver services". These services will help deliver food and medical supplies to people on lockdown struggling to get access to these goods. Have more questions? Make sure to contact them for additional information: USA and CANADA : via email webmaster@europcar.com.
Airbnb OpenHomes
While many may not know this Airbnb has a portal dedicated to helping those in distress or displacement, which they've now expanded to those impacted by COVID-19. "Open Homes" allows hosts to partner with nonprofits and easily provide free housing for travelers in need, and in this case healthcare workers.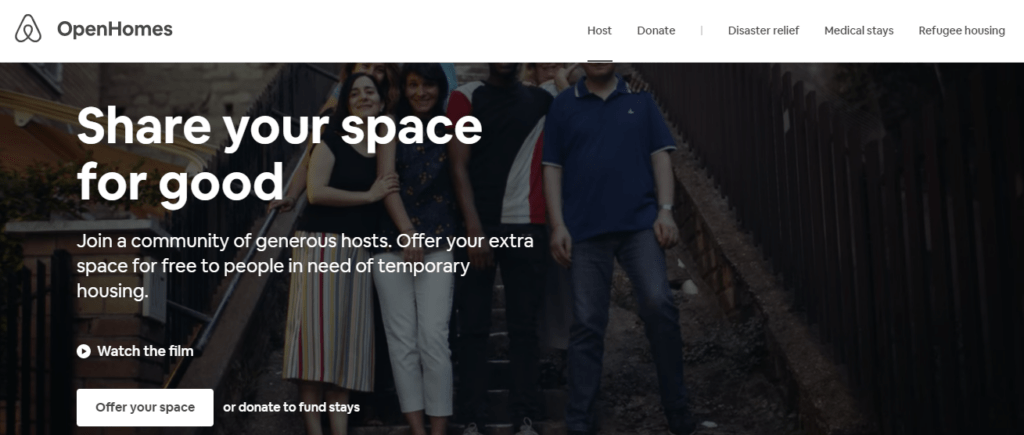 This program has already helped over 50,000 people find homes! Huge efforts have already been made in Italy and France due to the virus outbreaks there and they expect to see a similar trend in the United States. Want to join the cause? See the following steps:

OYO Hotels and Homes

This is another online booking agency that has opened both hotels and houses for the medical community fighting the coronavirus. Over 300 properties including OYO Hotel Chesaning Route 52 & Hwy 57, Hotel Whitehall MI, Hotel Mona Lake Muskegon and Hotel Lakeview Ira Township.
Are you a medical worker on the front lines of this fight or know someone that is? Call to get (+1) 628-213-7020 (code: OYO4FIRSTRESPONDERS ) a reservation for the nearest OYO Hotel.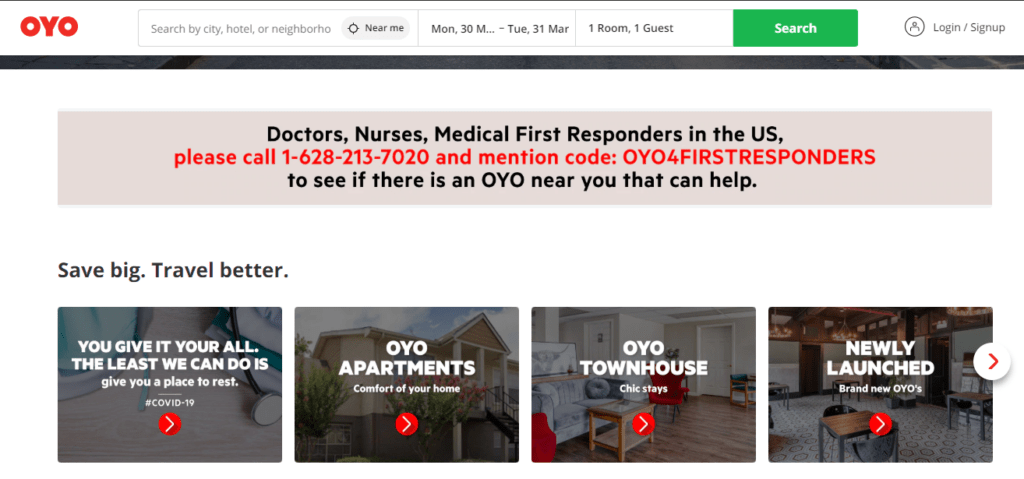 Quest
Quest Apartment Hotels in Australia has just announced that they are offering over 10,000 apartments to returning travelers facing a mandated two-week quarantine. In addition, they're using one of the buildings as a "health facility" to help accommodate the overflow of COVID-19 patients.
Virtuo
European app-based car rental service Virtuo is offering free rentals to National Health Services (NHS) workers in London, Manchester, and Edinburgh.
 "We are prioritizing anyone on the frontline (Doctors nurses etc) but will help all who we can," said Virtuo cofounder Karim Kaddoura. "Many of the NHS staff are struggling with commuting, errands and redeployment and we are keen to do our bit," Kaddoura said.