Compare Hundreds of Cheap One-Way Car Rentals
During this time many people are rushing to get to and from different locations and AutoRentals.com is here to help!
Our unique matrix lets you compare hundreds of the cheapest rental car options at thousands of locations across the United States. The one-way rental option gives you the flexibility to return the car anywhere you want without having to worry about going back to the original pickup destination.
Right now (March 3/23/2020) you can get cheap one-way car rentals Enterprise for rates starting at $42 a day from Chicago, Illinois to the Tampa International Airport in Florida and even lower fees, $15 a day rates, from Economy Bookings. That's a great deal! Please note the vehicle availability at the time can change the rate so make sure to keep checking for changing prices.
Looking to rent a car and want to try it yourself? Make sure to have some idea of when and where you want to rent and return your car. Then go to our home page, select your dates, as well as your pickup and drop off times.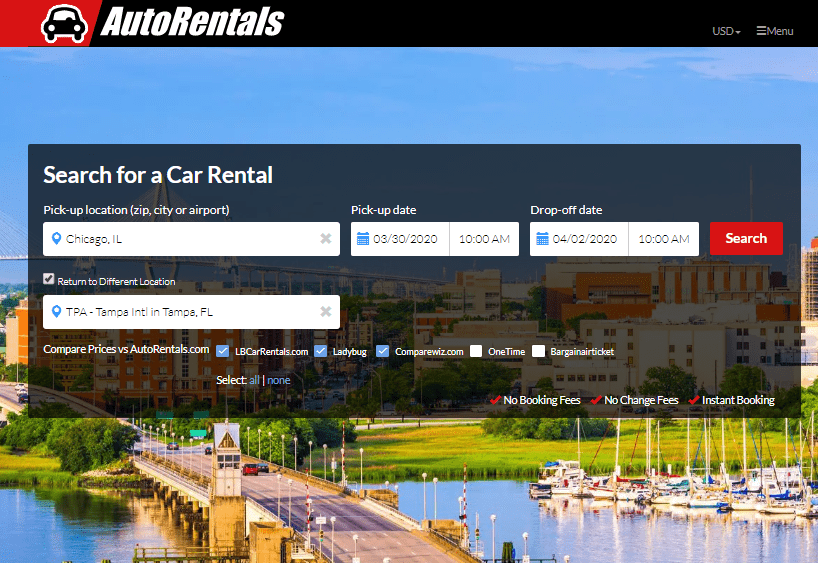 When choosing rental times keep in mind that you are normally charged for a 24 hour rental period, so if you pick up a rental at 3:00PM on a Monday and want to return it at 6:00PM on Thursday you could be subject to charges for another day based on that three hour return difference.
Make sure you do plenty of searches to see all your options. It's also a good idea to keep in mind what the airports drop-off and pick-up hours are, however, many companies allow after hour drop-offs for your added convenience.
Next, click the "Return to Different Location" option and input a return location to compare Best Daily Rates and Best Total Rates.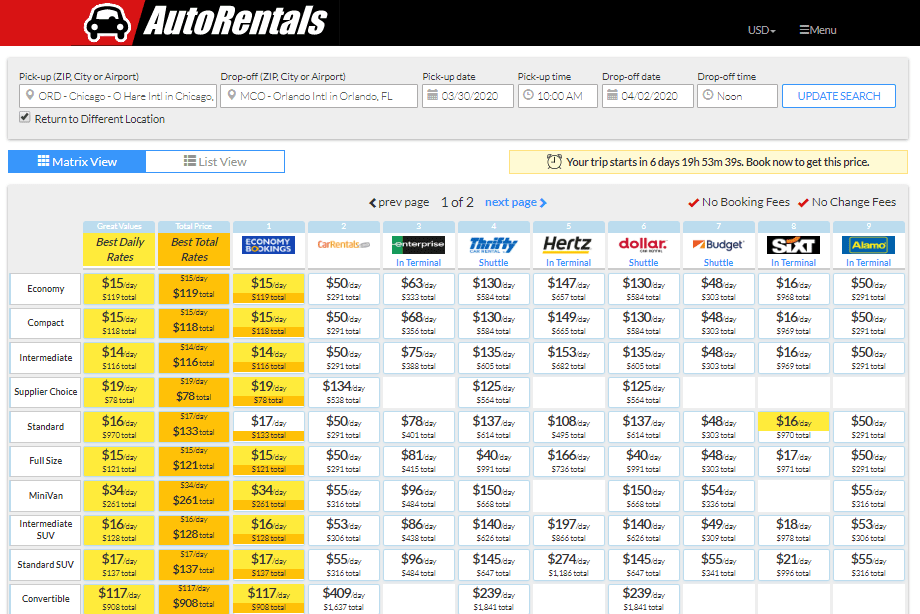 If you aren't seeing the results you wanted, try comparing other nearby cities or airport locations to get the best deals. For example, if you need a one-way car rentals Chicago to Orlando try these nearby participating locations for both areas when doing your search:
· ORD – Chicago – O'Hare Intl in Chicago, IL
· Chicago, IL
· MDW – Chicago – Midway in Chicago, IL
· North Chicago
· Chicago Ridge, IL
· SFB – Orlando Sanford Intl Sanford, FL
· MCO – Orlando Intl in Orlando, FL
· Kissimmee, FL
· Celebration, FL
Ready to start your car reservation? We have conveniently provided both a compare Best Daily Rates and Best Total Rates for rental vehicles so that you can easily spot the best deals. Additionally, you'll have the following car class options:
12 & 15 Passenger Van
Compact Car
Convertible
Economy Car
Full Size Car
Full Size SUV
Compact SUV
Intermediate Car
Luxury
Mid-Size SUV
Minivan
Pickup Truck
Premium Car
Full Size & Standard
Supplier's Choice
Depending on which rate you selected you may be redirected to a partner booking site to complete your online reservation. Make sure to check their individual terms and conditions before finalizing your reservation and have your credit card ready.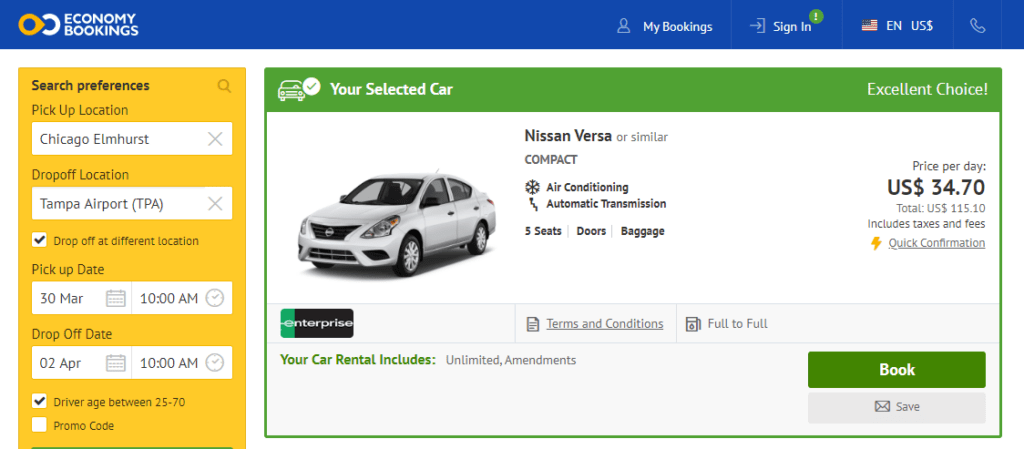 Also keep in mind that many car rentals companies have made their reservations more flexible since March 15th, 2020 and with most "Pay Later" options you don't have to include your card at checkout and will not be subject to cancellation fees. Top rental car companies have also changed some age driver and credit requirements during this time. You can also always search for individual company discount codes which can be applied to deals found through the Autorentals.com matrix.
Also, be sure to see airline cancellation policies updates on our blog as well.
When returning your rental car or other vehicle make sure to fill up the gas tank, collect all your belongings and throw out any trash before handing in your keys.