Do you have to pay tolls in a rental car?
Table of Contents
Toll Pass Device Rental Car Guide
AutoRentals.com wants to help you pick the best tolling option regardless of what rental car company you are renting your SUV, truck, 4×4 or economy vehicle from.
Please note these were the policies at the time of writing this blog, 2/18/2020, but they could be subject to changes. See each rental company's specific policies to ensure that the following information is up to date.
When getting a rental car, it's important to understand the possible additional costs you can occur. Every rental company has different policies in place, which can get confusing if you rent from different suppliers. AutoRentals.com wants to make this process as transparent as possible.
We have reviewed and broken down some of our most common auto rental providers toll terms and conditions. We want to make sure you get the best deal for your specific needs and preferences.
Below are some of the most common car rental companies and their toll pass policies, fees and other information.
Which Rental Car Company Has the Best Toll Pass Options?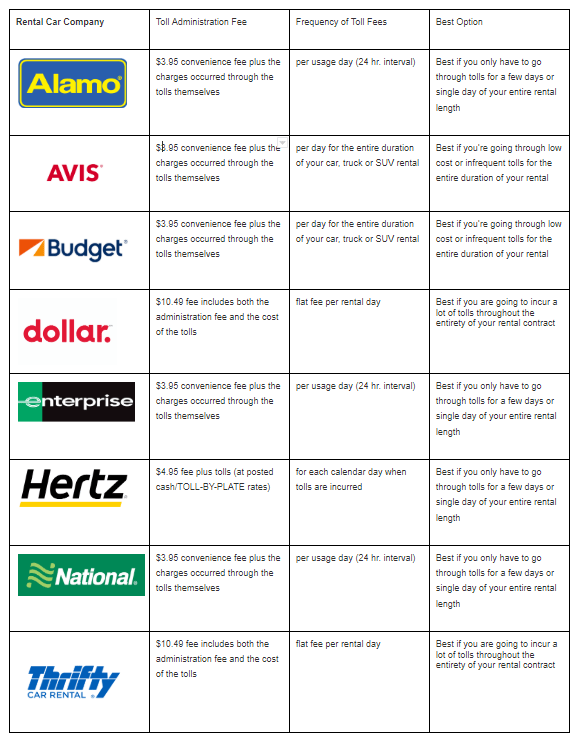 Click Here to Download the Car Rental Toll Pass Comparison Chart

What are The Hertz Corporation Rental Car Toll Payment Options?
Hertz has a PlatePass Automated Toll Payment option which can be used in Texas, Florida, Colorado, the Greater San Francisco Bay Area Bridges, North Carolina, Washington and the Northeast U.S. You can also get the add-on option in Puerto Rico.
Choosing this option does not make your tolls cheaper, however.
For example, typically drivers with a toll pass such as E-Pass will pay 23% less than the charge for cash tolls.
Alternatively, when using PlatePass toll you will be charged the cash or pay-by-mail rate at the highway toll booth.
Want to know the worst news? The charge is determined by whichever is higher, you will be charged the largest amount. You will also be subject to a service fee per rental day or a maximum monthly fee which may vary depending on location and location of pickup.
This is typically a $5.99 daily fee, but make sure to check with the individual provider beforehand.
Additionally, make sure to ask if there is a toll pass in the vehicle at all. In some locations, Charleston, South Carolina, there are no PlatePass devices in the rental cars because there are no tolls in the area.
However, you may want or need a device if you are traveling out of state or have a one-way rental. In these cases we advise you to bring your own toll pass and ensure that you check with the rules and regulations prior to driving away from the rental car facility.
So what are the pros of using the PlatePass? The answer would be speed and convenience. If you know you'll be on a tight schedule or are just eager to get to your destination faster and don't mind spending a little more this is the cashless toll road option we'd recommend. All you have to do is pull the device out for it to be activated.
As an alternative you can choose to pay cash at all the tolls. For some this may be inconvenient, but it does save money.
Make sure to consider all these factors before opting into any toll pass program with either company and thoroughly review your rental agreement.
What are the Toll Pass fees for Dollar and Thrifty?
For both companies renters can choose to pay a $10.49 flat fee per rental day. This fee includes both the administration fee and the cost of the tolls you go through.
This can be a more affordable option if you know you're going to be passing through a lot of tolls on your trip. Even if the cost of your toll fees is $20 you would still only pay the $10.49 fee. In contrast, if your told toll cost was $2 you'd still have to pay the all inclusive daily rate of $10.49.
Should I Get A Alamo Car Rental Toll Pass, National or Enterprise Car Rental Toll Pass?
These companies have partnered with Highway Toll Administration (HTA) to provide Tollpass Services to renters meaning all of their license plate numbers are registered through HTA.
If you do not have another transponder device in your vehicle Alamo's TollPass™ Service will automatically be activated. Note that you will be charged $3.95 a day for using the pass, not including fees acquired from the tolls themselves. In other words, you pay for the device and tolls separately.
On the upside, if you don't use any tolls during one of your rental days you will not be charged. Here's an example, you pass through a toll and pay $3.95 per usage day (24 hr. interval) so if you go through a toll on Monday at 2PM you will not be charged again for using the pass until after Tuesday at 2PM the next day.
When using Alamo's toll transponder, you may also not see the benefit of discounted price paid by all other vehicles with transponders.
Make sure to check with Alamo to see if any of their policies have changed or have certain restrictions depending on location.
Is Avis and Budget e-Toll for Rental Cars A Good Idea to Purchase?
This rental car company also charges renters a $3.95 convenience fee plus the charges occurred through the tolls themselves. In other words, if you're renting for 5 days, you'll see an additional charge of $19.75 on your final bill when returning the rental vehicle or at checkout.
Note that even if you don't use the toll pass every day you will still be charged $3.95 per day for the entire duration of your car, truck or SUV rental. So, if you rent it on a Monday and hit a toll on only Tuesday with a return date of Friday you will owe $3.95 for every single day that you rented it including the days you didn't go through any toll lanes.
For this reason, it's a good idea to figure out how many tolls you will be going through ahead of time. When driving a Budget vehicle, renters will opt-in to using Budget e-Toll when they swing open the transponder box and expose the actual transponder when traveling on toll roads.
You can also opt in during your reservation or at the rental counter. Make sure to ask the counter attendant what your options are if you choose not to go with the e-Toll pass.
Another thing to consider, depending on the state your rental vehicle will be equipped differently:
· Texas and Florida vehicles will be equipped with either video tolling capability or will be fitted with toll transponders
· Colorado vehicles are equipped with a sticker tag
· California, Oklahoma and Kansas vehicles are equipped with toll transponders
· Washington vehicles are equipped with video tolling
Additional questions? Email Budget Rent A Car at customerservice@budgetrentacartolls.com. Also be sure to check your credit card statement to ensure the toll fees were charged accurately.
What Different Types of Toll Passes are Available if You Choose Not to Get One From Your Rental Car Company?
While almost all rental car companies have toll passes installed in cars or different toll passes available you can always bring your own with you.
If you're renting locally sometimes it makes sense to bring yours with you, still be sure to check with your provider on their policies.
The toll passes available largely depend on what region you are in when renting a car, truck or SUV. Here are a few common toll passes you can purchase yourself:
· Good to Go!: Washington State
· FasTrak: California
· ExpressToll: Colorado
· K-Tag: Kansas
· I-Pass & E-ZPass: Delaware, Florida, Illinois, Indiana, Kentucky, Maine, Maryland, Massachusetts, New Hampshire, New Jersey, New York, North Carolina, Ohio, Pennsylvania, Rhode Island and West Virginia
· Peach Pass: Georgia
· SunPass: Florida, Georgia, and North Carolina
· NC Quick Pass: North Carolina.
Remember when renting you have the option to use your own pass or purchase one as an add-on. However, there may be hidden or hard to find fees associated with providing your own to pass. Making sure the toll pass transponder is compatible with the state you are renting a vehicle in is also very important.