SJC Airport Rental Car Center Information
For your convenience San Jose International Airport is open 24 hours. Rental car companies San Jose International Airport hours however may vary, see the chart below for more details.
If you have an international flight, make sure to arrival 3 hours prior and 2 hours before departure if you're flying domestic
AutoRentals.com has put together a photo guide to help you locate the rental car companies in the San Jose International Airport. Above all, they should be used to find the best pricing options for this specific location.
Traveling and need to rent from another location? See our Portland International Jetport Airport (PWM), Southwest Florida International Airport (RSW) or Charleston International Airport (CHS) car rental guides.
Where is the Norman Y. Mineta San Jose International Airport in California?
How Do I Get to Baggage Claim at SJC Airport?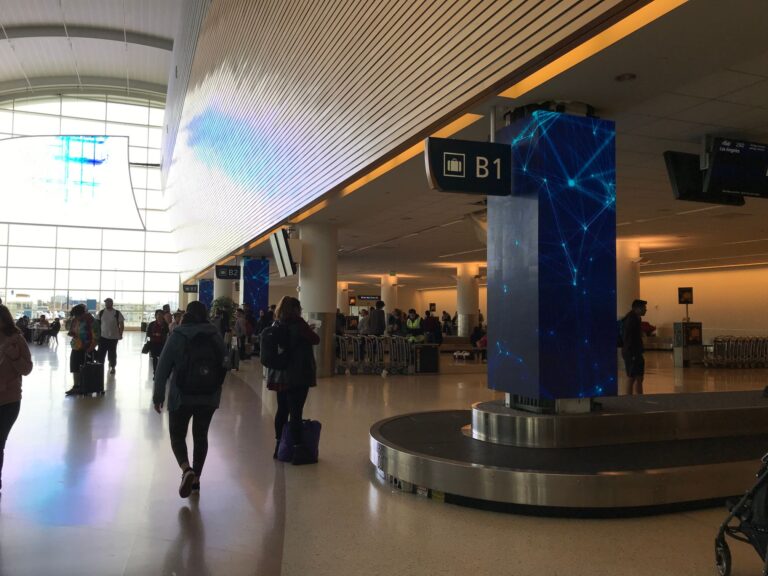 Certainly, when arriving at the airport you'll want to check and make sure you have your reservation. Furthermore, have your identification card and all carry-on items on hand whether you're getting ready for a business trip or vacation. If you are traveling with luggage, follow the signs for baggage claim.
The route to baggage claim will be different depending on whether you are arriving from terminal A or B. If you are arriving at terminal A you'll need to make your way across the walkway tunnel to reach the baggage claim area.
When arriving from Terminal B the baggage claim area is directly to your right.
There are multiple baggage carousels, labeled numerically, located directly next to one another. Hence, they are clearly marked display screens above each one indicating which carousel has the baggage from your arriving flight. This is a map that will certainly make the process even easier!
Where is the San Jose International Airport Car Rental Locations?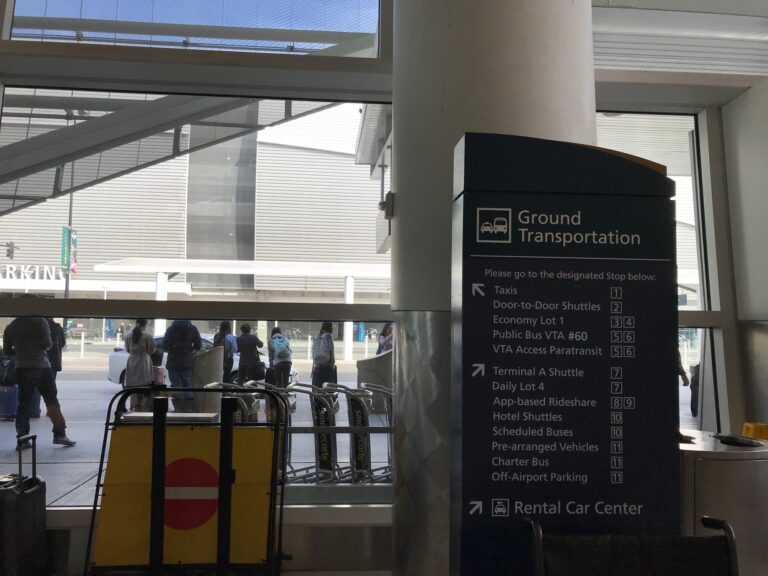 If your flight is arriving at Terminal A make your way to baggage claim, then follow signs for the rental car center shuttle located on the ground floor. An airport shuttle arrives every 7 to 10 minutes bringing passengers to Terminal B as well as the rental car center. These shuttles run from 2:30 AM to 1 AM.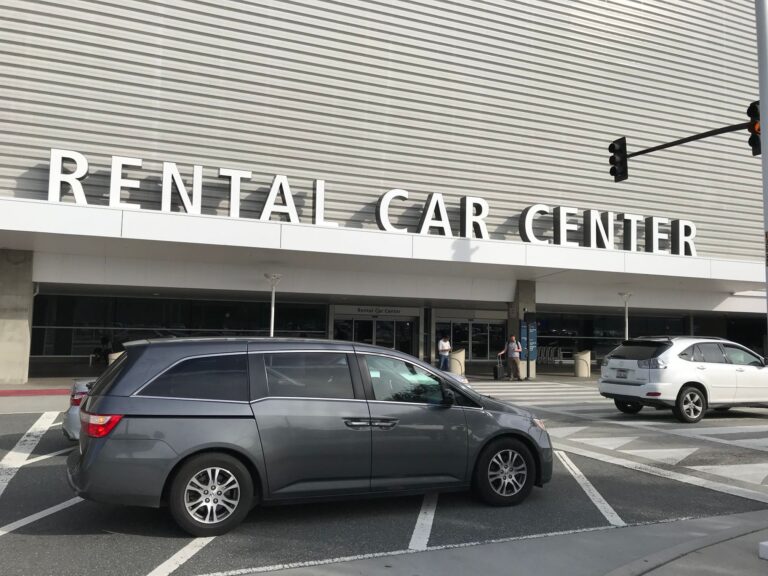 Is your flight arriving at Terminal B? After gathering your things from baggage claim make your way outside of the sliding doors directly behind you and follow signs for the car rental center. It is located just across the street.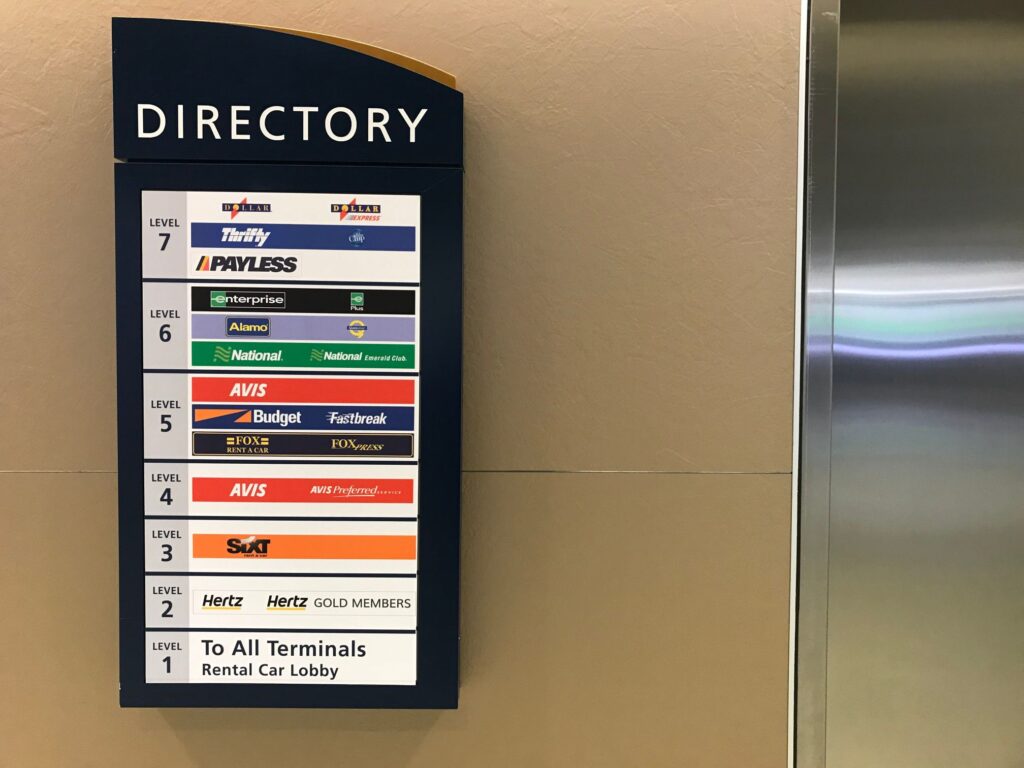 On the ground floor you will find the Rental Car Lobby. Hertz for regular and gold members is located on the 2nd level.
Level three renters can pick up their vehicles if they are renting from Sixt Rent a Car.
Just above that, Avis preferred members can find their rentals, while level 5 stores nonpreferred Avis members rentals as well as Budget and Fox Rent a Car Trucks, SUVs and other car rentals.
Enterprise, Alamo and National car rental companies are on the 6th floor. Lastly, Thrifty, Payless and Dollar are on the top floor, level 7.
Travelers always want to find the best prices, as a result, they use AutoRentals.com matrix formatting to easily compare top car, truck and SUV companies in seconds.
Where is Enterprise Rent a Car Located at the San Jose Airport?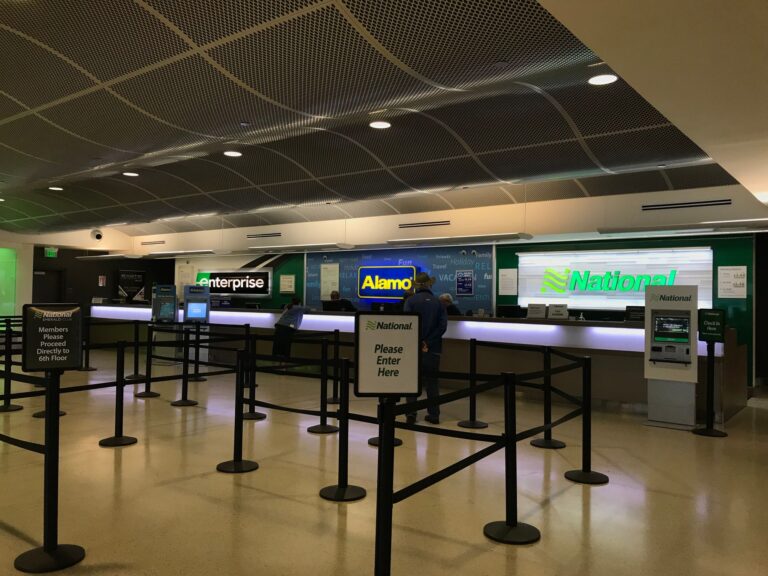 If you're coming from Terminal A you'll have to take a rental car shuttle to the Car Rental Center across from Terminal B. Visit the counter in the main lobby and make sure you have your driver's license and rental agreement. The customer service representative will review individual company terms and conditions with you before giving you your keys. The Enterprise rental car airport location is on the top floor of the parking structure. Just take the elevator all the way to the top and pick up your vehicle.
How Many Terminals Does San Jose International Airport Have?
San Jose International has one terminal divided into 1-10 East and 11-20 West.
What are the San Jose Airport Car Rental Company Phone Numbers?
What Is the Lost and Found Number for the SJC Airport in California?
Traveling can be stressful and a lot of us are in a rush because of this it's easy to sometimes forget or misplace items. Norman Y. Mineta San Jose International Airport lost and found is located between Terminal A and B (1701 Airport Boulevard, Suite B-1130 San Jose, CA 95110-1206). They are open Monday through Friday, 8:00 am – 5 pm, closed holidays.
If you need to get ahold of them please call (408) 392-3559 or fill out this Lost Item Report form here: https://flysanjose.com/report-lost. Please note that they can only store lost items for 30 days.
Do note then when picking up your lost item you will need to provide proof of ownership. If you lost something and need it shipped to you that can be arranged at the owner's expense.
Still Have Questions About Renting a Car from the Norman Y. Mineta San Jose International Airport?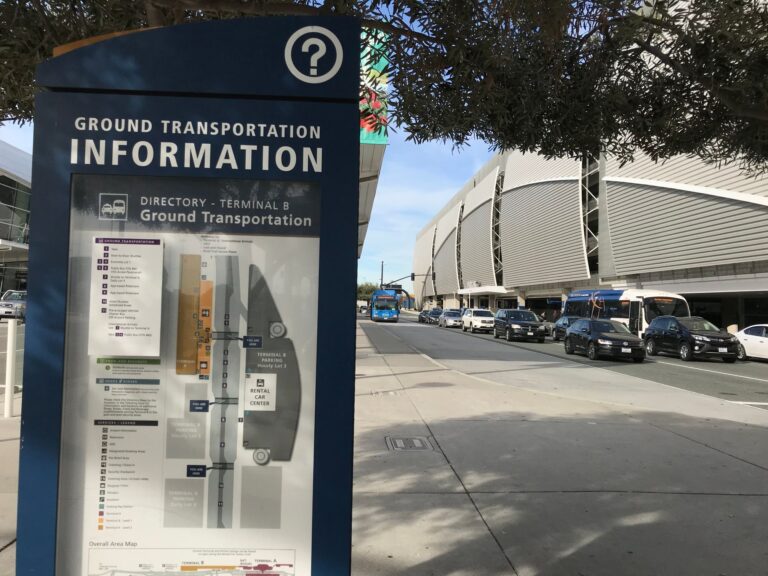 At Norman Y. Mineta San Jose International Airport there are two Customer Information desks. They are each located in Terminal A and Terminal B baggage claim areas.
More information can be found at: https://flysanjose.com/services/airport-information-booth. If you have immediate questions you can call (408) 392-3600. The airport customer service center is available to take calls Monday thru Friday, 8 AM to 5 PM, and closed on holidays. You can also email them anytime at info@sjc.org with questions and concerns
If you don't have questions and feel you're ready to book a rental car at the San Jose International Airport visit AutoRentals.com to start a car reservation. We have vehicles in every car class and brand you could need.
Looking for other airports in the area? If you are, we would like to recommend the following: