4 Best Road Trips from Charleston SC
From beaches to the vibrant and historical downtown there's so much to do in Charleston but there's even more to do right around the corner. We're talking roadtrips! Below are the 4 best road trips from Charleston, SC.
Whether you want to get away for the day, weekend or entire week these destinations are sure to help cure your cabin fever.
First on the list is Asheville, North Carolina.
Drive time from downtown Charleston, South Carolina to Asheville is roughly four hours and thirty minutes.
Looking for a great place to stay? This city is home to many unique Airbnbs, including the Sanctuary, Treehouses of Serenity. This treehouse is located up in the sprawling mountains where you can watch a magnificent sunset above the treetops each night.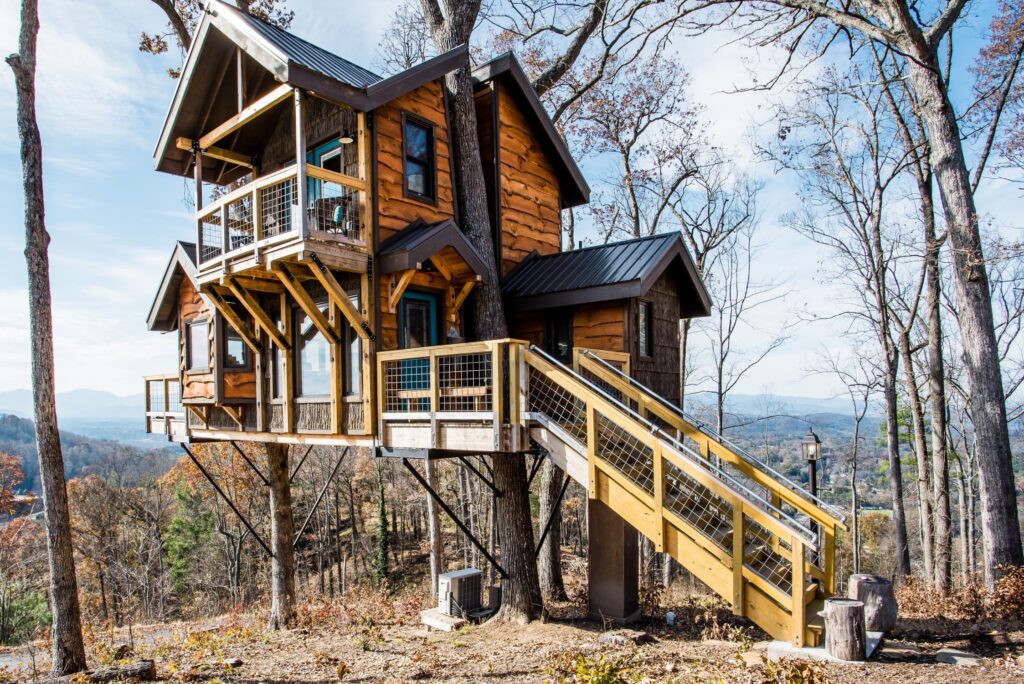 Sanctuary, Treehouses of Serenity: Caroline & Mike Airbnb
Speaking of up in the mountains, for a trip to Asheville you'll want to make sure and consider renting a four-wheel drive vehicle like an SUV, as some of the roads can be extremely bumpy and hard to navigate. Other features to look for are a six cylinder engine, and a car with excellent balance of control.
Stay, check. Car, check. What to do when you get there?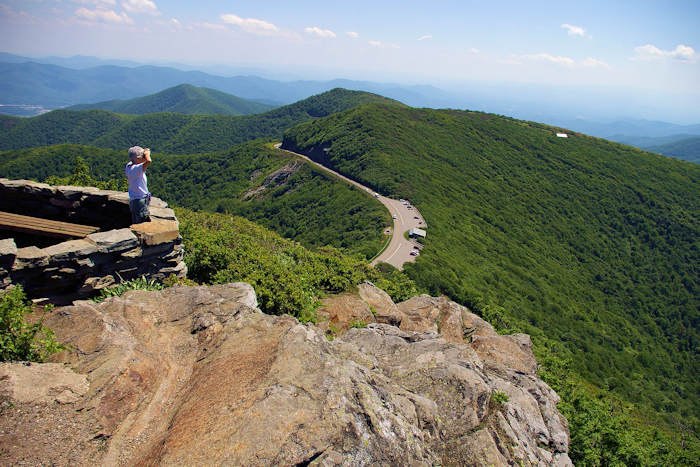 Craggy Pinnacle Hike, Blue Ridge Parkway: Romantic Asheville
The hiking here is absolutely stunning. If you want a shorter hike try Craggy Gardens, just 36 minutes from downtown Asheville, NC. This trail is part of Western North Carolina's Blue Ridge Mountains, this 1.4 mile hike will take you only an hour or so. Make sure to pack a picnic lunch and enjoy it at one of the many scenic outlooks along the way.
The most iconic hikes in this area can be found at the Pisgah National Forest near Brevard, North Carolina. Here you will find Sliding Rock. It's a natural formation of slippery rock with the river current gushing over it, the result is a fantastic waterslide in the woods! Whether you're an adult or child this feature will give you a thrill, not to mention a memorable photo opportunity.
After a day of hiking wander into the downtown area, there's plenty of great breweries including Wicked Weed Brewing Pub, Thirsty Monk, Ben's Tune Up and Burial Beer.
Hilton Head Beach, South Carolina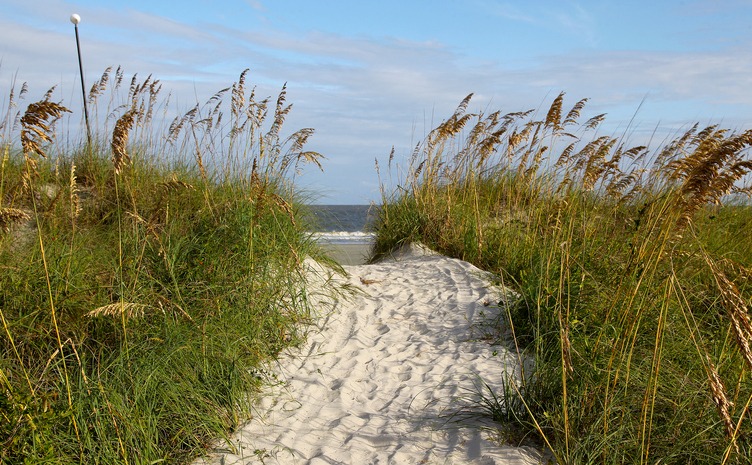 Only a two hour drive from downtown Charleston, Hilton Head is a great weekend destination for family, couples or friends!
Pinckney Island National Wildlife Refuge is home to hundreds of birds. The park acts as a habitat for colonial wading birds such as ibis, egrets, and herons. They make nests here called rookeries.
There are over 12 miles of pristine beaches on Hilton Head Island but the local and tourist favorite is Coligny Beach. This beach is free to visit and very popular due to the soft white sands and clear blue ocean water.
Are you a fan of golf? Hilton Head Island is the place for you. It is home to more than 24 championship courses, both public and private, and is a PFA TOUR event destination. See this Golf Advisor article, Top 10 courses you can play in and around Hilton Head Island, for more information.
Next up is Edisto Beach.
This gem is less widely known but just as breathtaking. This is a great day trip destination or weekend getaway; the drive will take you about an hour.
Whether you're doing a day trip or a long weekend to the beach AutoRentals.com recommends getting a Jeep, convertible or SUV rental. The first two allow you to cruise around with the wind blowing through your hair and the last gives you ample space for family or friends and all their beach supplies!
Looking for a place to stay? There are plenty of gorgeous beach front homes for rent like the one below.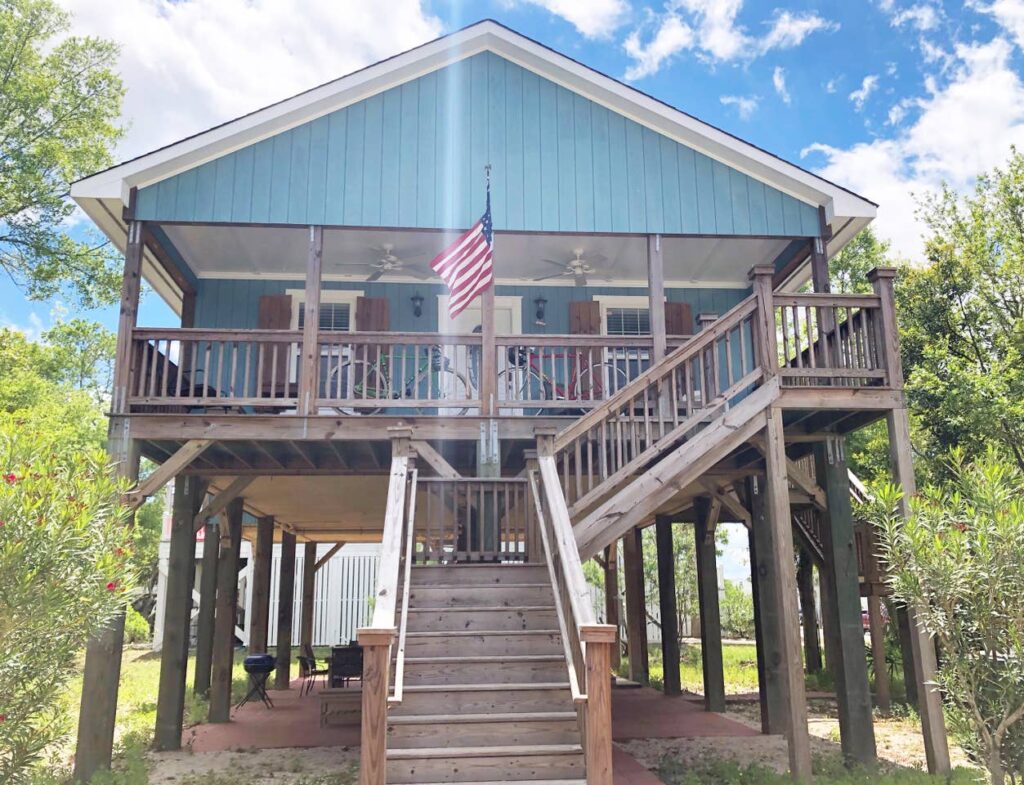 Edisto Beach Family Retreat with Pool Access: Haley Airbnb
If you love palm trees, clear water and plenty of wildlife the Edisto Beach State Park will not disappoint. Interested in seeing some Loggerhead turtles? Egg hatching season is almost here! May through August turtles will lay their eggs along the shore and the baby turtles will start their journey to the ocean roughly 60 days later.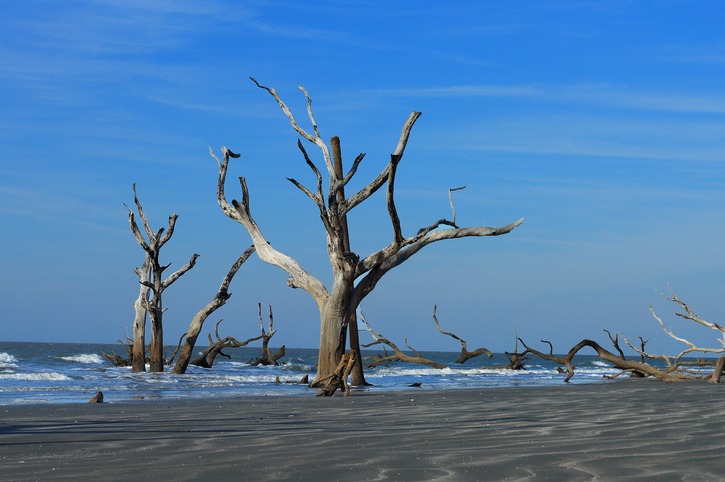 Calling all history buffs to Edisto Island's Botany Bay.
Botany Bay Plantation Heritage Preserve and Wildlife Management Area is a blast from the past. You can drive through the entire reserve on a dirt road, bordered with trees covered in Spanish Moss to see the whole plantation, which includes homes and other buildings made completely of crushed shells. This type of material is called Tabby Shell Stucco. When you look at the walls you can still see many of the individual crushed shells within the clay. You'll also be sure to see tons of wildlife including deer, alligators, shore birds, crabs and raccoons! Have your camera ready.
The actual bay area on the preserve is breathtaking. It almost looks like a tree graveyard, with bleached branches swaying above the ocean and the crushed seashells covering the ground. There are so many shells it's almost impossible to walk without stepping on some, including beautiful conch shells. Because visitors are forbidden to take any with them when they leave they'll be there for many years to come.
The best time to visit is during low tide, during high tide there is very little beach area to walk. If you're visiting in autumn season there's a good chance you'll spot dolphins feeding along the coast.
One thing to note if you choose to visit the preserve, dogs are not allowed, even on leash, so leave your pup at home.
Last but certainly not least is Savannah, Georgia.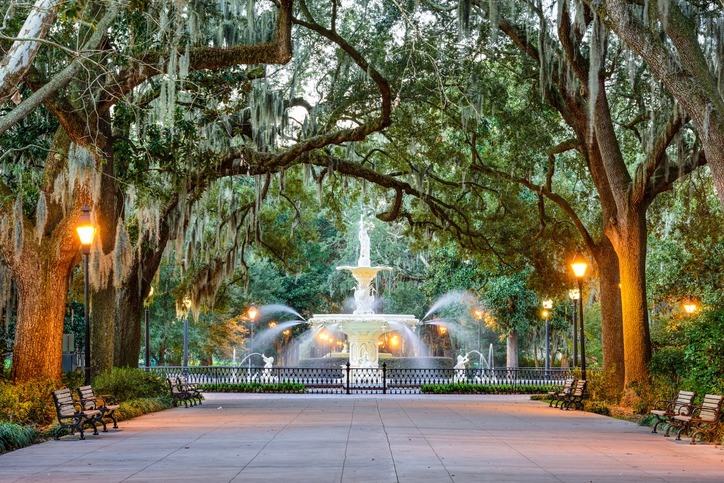 If you're a Forrest Gump fan you'll recognize a few locations downtown. Savannah is known for its picturesque historical buildings, covered in bright vibrant colors. You'll be immersed in the southern atmosphere and enjoy southern charm and hospitality during your stay. Be sure to check out their many charming bed and breakfast inns!
You can also have a great night out in the Historic District. It's a perfect place to go out with friends because of the open drinks policy there allowing party goers to carry beverages in plastic, 16-ounce cups as they walk from bar to bar.
Want to stay a little more secluded? Grab your significant other or friend to walk through over 22 small parks called squares that are usually centered around a statue of a notable Georgian. Or grab a blanket and have a picnic under a two hundred year old Live Oak tree. Sometimes you can even enjoy live music in the park with your picnic.
Enjoy a good view? Try having lunch and a cocktail at one of the rooftop restaurants, Kessler or TopSail, on River St and watch the boats go by.
Ready to book your trip? Stop by AutoRentals.com and get the perfect car to take you where you want to go.