Car Rental Company Cleaning, Safety and Disinfection Procedures
Table of Contents
During these uncertain times car rental companies all over the country are stepping up to make sure you and your loved ones are safe when renting a vehicle. This article covers all their new procedures aimed at keeping cars clean and you healthy!
Avis, Budget Rent A Car and Payless Car Rental
UPDATE 07/14/2020:  Avis Budget Group (ABG) has created a coalition with medical professional, an internal team of experts and RB – the parent company of Lysol.  Avis is currently the only car rental brand partnering with Lysol.
UPDATE 05/22/2020:  Avis and Budget have provided additional details, announcing the Avis Safety Pledge and Budget Worry-Free Promise.  Both programs focus on four main pillars:
Minimal contact for pickups
Leaving the rental office safely
Returning the car safely
Keeping employees safe
All three companies are closely watching the World Health Organization and the Centers for Disease Control regarding the spread of the virus. 
These car rental companies have enhanced the techniques used to clean their vehicles after each rental and have been paying special attention to interior customer touch points such as seats, steering wheels, door handles and other hard surfaces with recommended cleaning products.  Read more here.
Additionally, AVIS, Payless and Budget are instructing employees who feel ill to stay home and frequently wash their hands.
Enterprise Rent-a-Car, Alamo Rent a Car & National Car Rental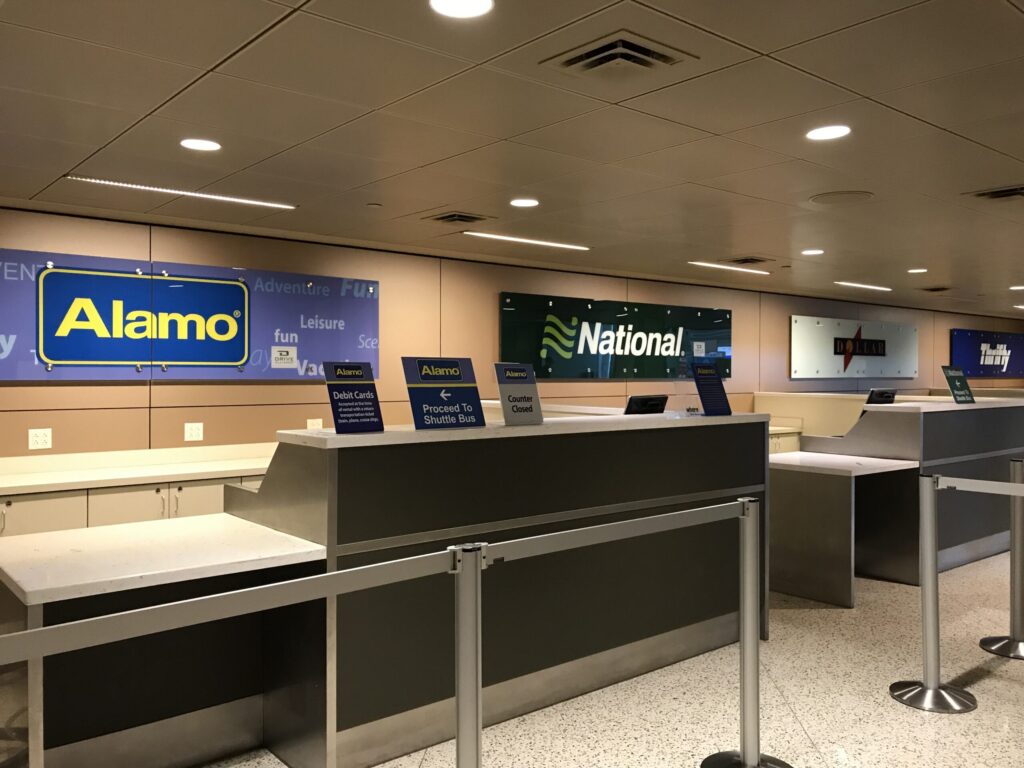 Update August 5, 2020: National Car Rental now requires face coverings inside all its locations.
Update May 11, 2020: Enterprise Holdings Car Rental Brands announces their Complete Clean Pledge which includes enhanced cleaning guidance for vehicles, shuttles and branch locations, as well as social distancing practices.
This is the complete 20 point cleaning list that will be done to each renal car:
Key / key fob
Steering wheel
Steering column
Seat belts
Center console
Door interiors
Door pockets
Interior door handles
Exterior door handles
Seat pockets / seat surfaces
Areas between seats & consoles
Areas between seats & doorjambs
Cupholders / compartments
Instrument panel
Accessory panel / touchscreen
Rearview mirror / side mirrors
Visors / visor mirrors
Dashboard / vents
Gear stick / gear shift
Trunk release
Among any other high-touch areas
For more information click here.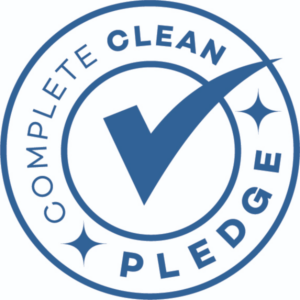 Enterprise Holdings, Inc. is the parent company of car rental companies Enterprise Rent-A-Car, National Car Rental and Alamo Rent a Car. Here are just a few things they're doing now in response to COVID-19.
Carefully monitoring the situation and following guidance from the World Health Organization and other health authorities.
Implementing additional measures to clean and disinfect our locations and vehicles.
Performing routine cleaning with a recommended disinfectant of all frequently touched surfaces at our locations, such as countertops, door handles, kiosks, workstations and bathrooms
Cleaning the dashboard, key & key fob, instrument panel, steering column, wheel, accessory panel, center console, cup holders, compartments, seats, between console and seats, between door jambs and seats, door and door pockets, mirrors, among other areas in each rental car
https://www.youtube.com/watch?time_continue=14&v=9jmYHPqiJ88&feature=emb_title
Hertz Car Rental, Dollar Rent A Car & Thrifty Car Rental
Update July 28, 2020:  Dollar Rent A Car and Thrifty Car Rental have begun to require that all customers and staff wear masks inside all their facilities starting on July 27, 2020.
Update June 1, 2020: Dollar Rent A Car and Thrifty Car Rental have both released their Clean Guarantee program that provides a similar enhanced cleaning process as Hertz.
Update May 4, 2020: Hertz is introducing a 15-point cleaning process. After cars go through the process they'll seal the vehicle for your protection so that you can rest easy.
https://blog.autorentals.com/wp-content/uploads/2020/04/hertz-clean.mp4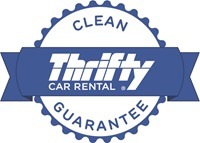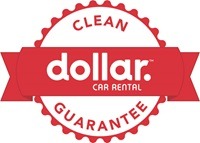 All three car rental companies, Dollar, Hertz and Thrifty want to make sure their customers, employees and the communities where they operate stay clean and safe.
The following statement on how the current situation is being handled was released:
"Please also know that we continue to maintain our high standards for safety and cleanliness. In addition to practicing preventative measures to reduce the spread of germs within our facilities, all of our vehicles go through a rigorous, multi-step cleaning process for each rental. We remain vigilant in upholding these practices and will take additional precautions as recommended by the Centers for Disease Control & Prevention (CDC), World Health Organization (WHO) and local governments.
We continue to monitor this evolving situation and will keep you informed of future updates."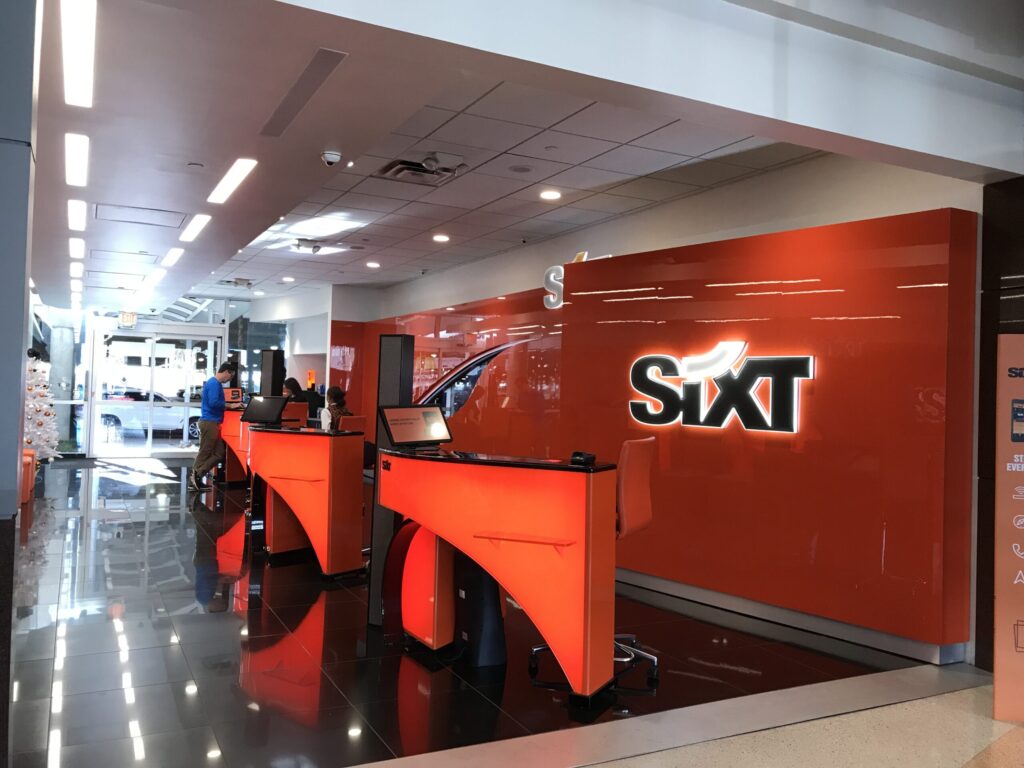 UPDATE 06/30/2020:


UPDATE 05/28/2020: Sixt has continued to further its cleaning and social distancing office policies and procedures, including a four step, thorough cleaning process in its Sixt Premium Cleaning Standard.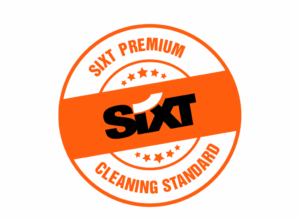 In addition to the enhanced cleaning of the rental fleet, these are the following measures Sixt Rent A Car is taking:
HYGIENE STANDARDS IN THE SIXT BRANCHES

Sixt has distributed hygiene materials and introduced intensive cleaning processes to minimize virus transmission in their branches. Additionally, they are following the recommendations of the WHO to reduce the risk of transmission during the Coronavirus outbreak by updating our operations, for example:
Instructing Sixt staff to wash their hands thoroughly.
Building plexiglass counter screens in all branches.
If required by the local authorities, all agents with customer contact are wearing face masks to protect themselves as well as customers.

SOCIAL DISTANCING

Sixt is committed to providing a safe environment for our customers and employees during this challenging situation and have introduced further practices to better maintain social distancing:
Displaying signage and adding floor markers to guide customers at the branch and preserve distancing.
If required by the local authorities, limiting the number of employees and customers in a location.
Green Motion
With continued concerns regarding public transportation due to COVID-19, Green Motion are offering car rental as a Personal Protective Transport (PPT) method. The Green Motion network worldwide ia taking further steps to protect both customers and staff by implementing new initiatives outlined below:
Staff to be issued with appropriate personal protective equipment, such as face masks and gloves.
Implementation of protective counter shields to separate customers and rental agents
Floor stickers within branch to keep customers at least 2 meters apart to maintain social distancing.
Implementation of information stickers promoting safety measures in branch.
Introduction of a paper band across steering wheel or hanging card from the rear-view mirror, reassuring customers that the vehicle has been fully valeted and sanitised.
Adding "Welcome Stations" with complimentary face masks, gloves and wipes.
Face shield will be introduced as well
https://www.youtube.com/embed/zv5kLj9lmYo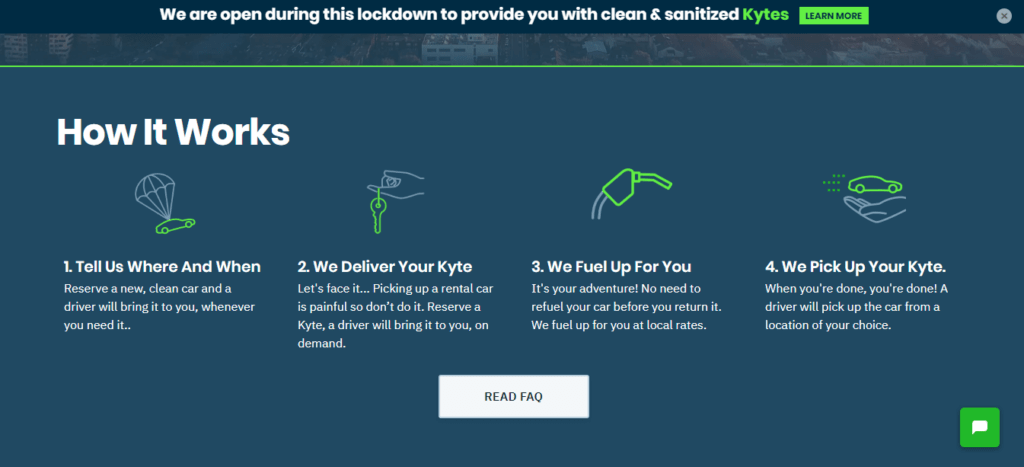 Kyte wants customers to know they care about their safety during these uncertain times, as a result they've made several upgrades to their already stingant cleaning protocols and pickup service procedures including the following: 
Sanitizing all the surfaces in every car before it's delivered
Decreasing contact during handover, which includes having employees use sanitary gloves to make the handovers, and allowing customers to sign their rental agreement on their own phones
As a measure of convenience and safety Kyte is also introducing flexible long-term rentals to follow increased requests from customers who want to avoid other means of transport during COVID.
As a few other companies have previously stated, Fox Rent A Car is strictly following the recommendations of the World Health Organization (WHO), the Center for Disease Control (CDC) and local health/government agencies.  
Fox is also increasing how often they clean all public areas using disinfectant agents approved by the EPA. Additionally, they're following preventive hygiene methods suggested by the CDC.
EZ Rent a Car & Advantage Rent a Car
Download PDF:
https://www.e-zrentacar.com/wp-content/uploads/2020/03/CoronaVirusStatement.pdf
Advantage Rent A Car and E-Z Rent-A-Car are taking the following additional cleaning precautions during COVID-19:
      Cleaning and disinfecting hard surfaces and frequently touched items
      Increased sanitization of our public rental spaces
      More frequent employee hand washing,
      Instructing employees who feel ill to stay home and consult their healthcare providers
In addition SilverCar by Audi is:
Supplying location employees with plenty of disposable gloves and reusable masks
Working to keep locations stocked with disposable masks as well for customers if they would like one
Placing steering wheel covers on after cleaning and disinfecting the interior to ensure a clean surface for the customer
Allowing a touchless process that doesn't require the concierge to close to the customer
Economy Rent A Car
Economy has been making sure employees are able to practice social distancing while still assisting patrons safely. They're also made changes to their cleaning processes, see their latest video below.
https://www.youtube.com/watch?v=j9ZiCGBwkTE&feature=youtu.be
Zoom Rent A Car is cleaning cars as soon as they're returned, and taking precautions by cleaning vehicles after they sit on the lot unused every 2-3 days.
Another AutoRentals.com partner, Midway Car Rental, has released their extensive disinfectant policies during this time.  Uniquely, they've included office, car and shuttle safety procedures along with a video for reference.
"In our offices:
Plastic safety shields have been installed at our  counters to protect both our clients and employees
All employees have been provided gloves, masks, cleaning supplies, and hand sanitizing products.
Floors have been clearly marked for clients to know where to stand
Furniture has been moved and removed  to encourage social distancing
Signage has been placed throughout the facility that enforces social distancing and face covering
Signage is posted on our shuttles and in our offices that enforce our commitment to social distancing and face covering.
Counters, chairs and supplies are being sanitized several times per day
Daily well -being checks are conducted of our staff to ensure everyone that is working symptom free
On our cars:
Midway's standard operating procedures before each rental include a complete vehicle cleaning and disinfecting of interior surfaces. This includes, but is not limited to, the complete steering wheel and controls, door handles and any buttons, radio and climate controls, seat adjustments, cup holders, arm rests, trunk area, seat belt buckles, and more.
We thoroughly wash  the exterior and vacuum and wipe the interior of all cars according to CDC guidelines.
The inside  of the vehicles are cleaned and disinfected with a variety of commercial grade products.
We have recently added the use  of UV sanitizing wands for the interior of our vehicle
All employees that are cleaning and sanitizing the vehicles, wear masks and gloves
Ionic water is used for spot free car drying to eliminate the use of towels  and decrease the spread of contaminants
When we do the key hand off,  put the key inside the car, so avoid hand to hand contact
Our shuttle:
Our Shuttle driver wears a mask and gloves
Signage is on the van that mandates face coverings
The shuttle is cleaned and sanitized after every shuttle trip
Seats have been removed to encourage social distancing in the vehicle
Clients enter the back of the van to avoid contact with the driver"
https://www.youtube.com/watch?time_continue=25&v=Ez_Vt6EBVdQ&feature=emb_logo
Routes Car Rental Cleaning Procedures
UPDATE 05/27/2020:  Routes Car Rentals has provided more details around their enhanced procedures found here.
Routes Car Rentals is here to help employees and patrons stay safe during COVID-19; here's what Routes is doing:
      Using additional alcohol-based disinfectants to wipe all their surfaces in rental vehicles.
      Employees are required to disinfect spaces on a regular basis
      All employees are advised to participate in frequent handwashing to avoid infection
      Employees are being asked to stay at home if they're feeling ill and consulting a physician
Easirent
UPDATE 05/27/2020:  Easirent has released further details on their cleaning procedures, with a focus on 20 high touch points for deeper, sanitized cleaning.
Their key focus is to ensure that they keep all their employees and customers safe. They have introduced an enhanced multi-step cleaning process to minimize the potential risk of virus transmission. Staff follow the recommendations of the WHO, which includes wearing appropriate PPE equipment and washing hands intensively on a regular basis. 
https://blog.autorentals.com/wp-content/uploads/2020/04/Easirent_Covid_Clean_v4_Compressed.mp4
Discount Car and Truck Rentals
Discount Car and Truck Rental is following guidelines from Canadian health officials, including the requirement of masks for both customers and employees.  Further, its rental vehicles are put through an extensive cleaning process to meet the standards of its Clean Car Promise.