4 Best Road Trips from San Francisco
Mount Tamalpais State Park
For a step away from the urban landscape of San Francisco, and for a dose of tranquility, cross the iconic Golden Gate Bridge to Mount Tamalpais State Park, nestled in the heart of Marin County.
This sprawling California state park sits on top of a mountain, its namesake Mount Tamalpais or "Mt. Tam," as it is called by locals. From here, you can bask in a panoramic view of the entire San Francisco Bay Area. Look below and you will see the redwood forest. Look to the west, and the Pacific Ocean unfolds before your eyes. To the East, there is the Bay Bridge, the city of Oakland and the rest of the East Bay. To the South, the city of San Francisco sits perched alongside the Bay like a jewel, with the suburban areas of the Peninsula and Silicon Valley in the distance.
It is a quiet and serene experience, heightened by the warmth of the sun and a gentle breeze. Once you are ready for some adventure, make use of the nearly 60 miles of unspoiled hiking trails within this park, connected to an adjoining additional 200-mile network of trails, paradise on earth for any lover of the outdoors.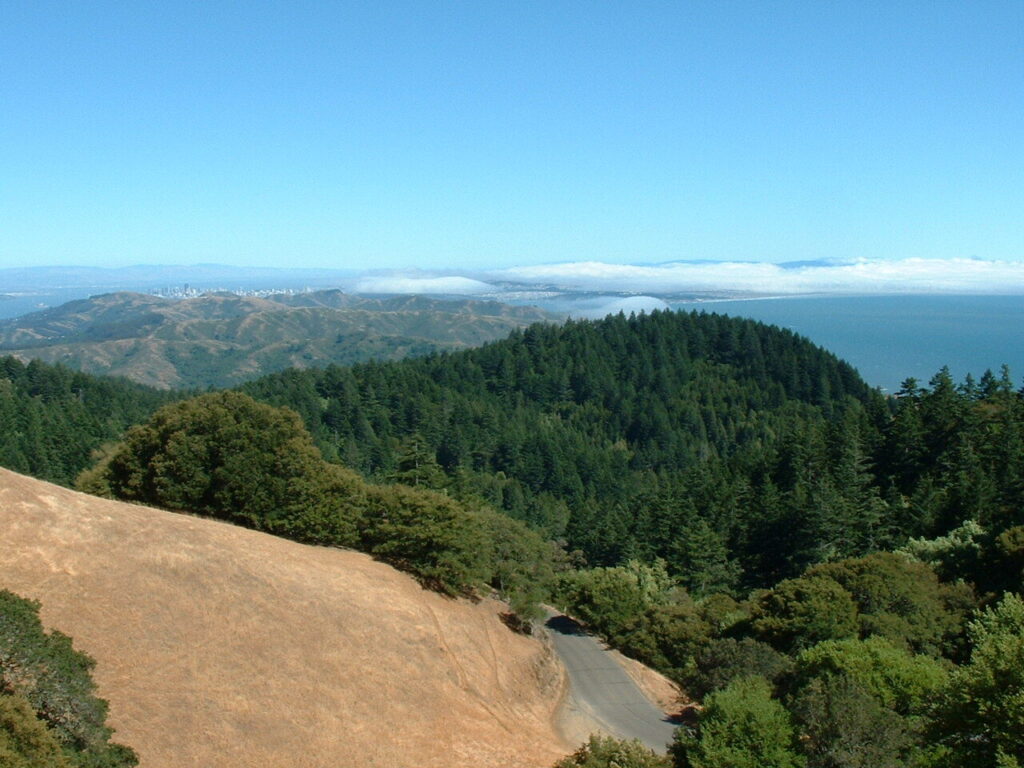 Campgrounds are available at the park. For a more upscale experience, we recommend the Mountain Home Inn, just a few minutes by car from the park. This is a bed and breakfast set in the high elevations of the Mt. Tampalpais ridgeline, with sweeping views of the San Francisco Bay Area, and eleven rooms, each distinct and rustic looking, but with luxurious amenities like private balconies overlooking the forest and wood burning fireplaces.
The hosts are most accommodating and serve a delicious, wholesome complimentary breakfast on a large outdoor deck overlooking the S.F. Bay. The fresh preserves served at breakfast are unforgettable. Lunch and dinner are also available daily on the deck should you be tempted by breakfast to enjoy more from the very capable kitchen.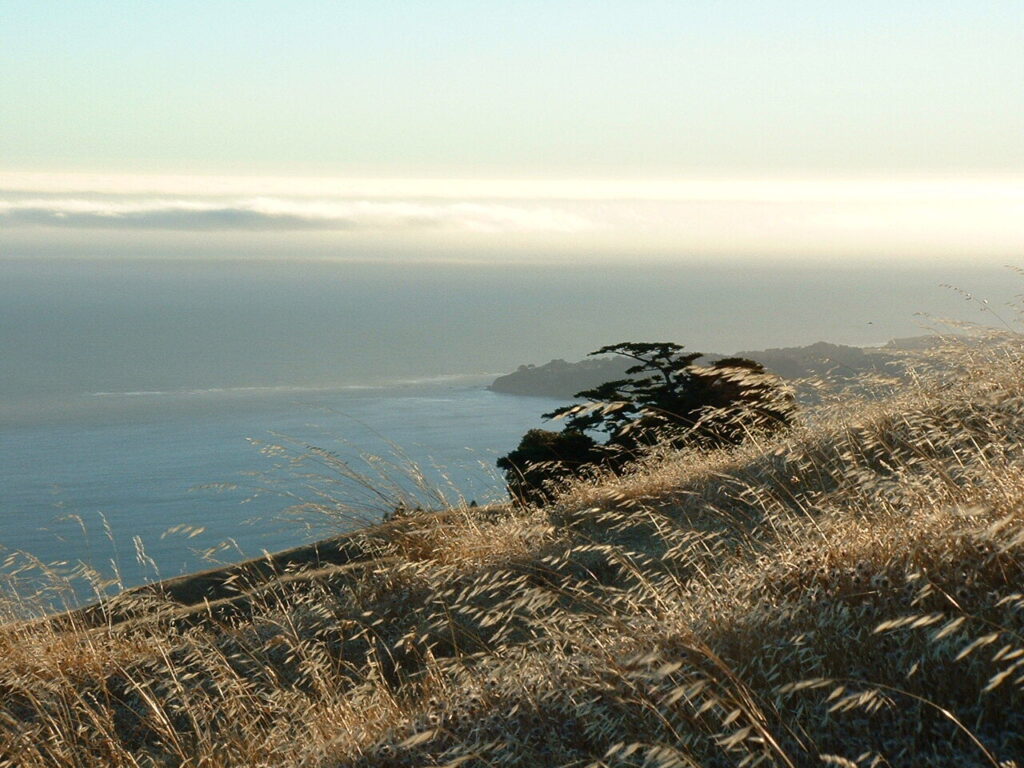 Skyline Boulevard
State Route 35 (SR 35), generally known as Skyline Boulevard is an amazing scenic route right out of San Francisco. It gives tourists, and even locals, an easy way to escape the hustle and bustle of downtown. You can immerse yourself in the winding roads lined with gorgeous trees and astonishing scenes of the Santa Cruz Mountains.
Take the time to pull over and enjoy the main trailheads that straddle this road. Castle Rock State Park is a 5,242-acre state park along the drive which is perfect for beginner hikers or people just looking to make a short trip up in the mountains. From the main park entrance you can walk to Castle Rock Falls and Goat Rock, the entrance fee is only $10. Campsites and picnic areas can be reserved as well.
For this drive we'd recommend a Jeep, convertible or other open aired rental vehicle that allows you to take in all the scenery.
Getting hungry? Alice's is about 45 minutes out of San Francisco and is an eco-minded spot, named after the famous song. Guests rave about their bison burger, chocolate lavar and the unique atmosphere that offers drop in cats, a mystic log cabin surrounded by the forest, vintage photos and a welcoming staff. They make sure everyone is welcomed here which includes making the restaurant handicap accessible and accommodating almost every food allergy you can have!
Another highly recommended eatery along the way is Buck's Restaurant, Woodside, a self described knickknack-festooned decor interior that lends a whimsical vibe. They're known for no frills comfort food and an extremely friendly staff. If it's packed remember there's a not so obvious lot in the back of the restaurant.
Want something more romantic? Try Bella Vista restaurant in the Bay Area!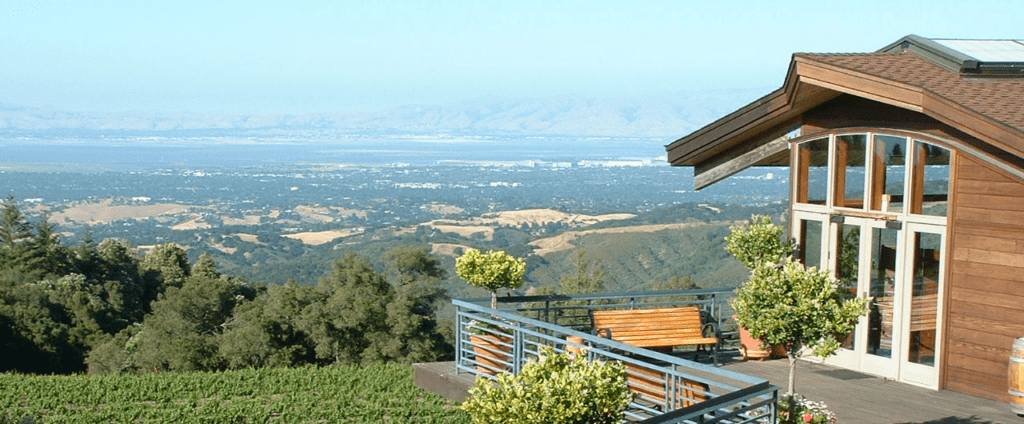 For a great off the road place to stay check Bicycle Shack @ La Honda Pottery, it's ideal for hikers and bikers who have a furry friend they want to bring along. You can enjoy their 1 acre property in Cuesta La Honda, which is a small residential community in La Honda, California.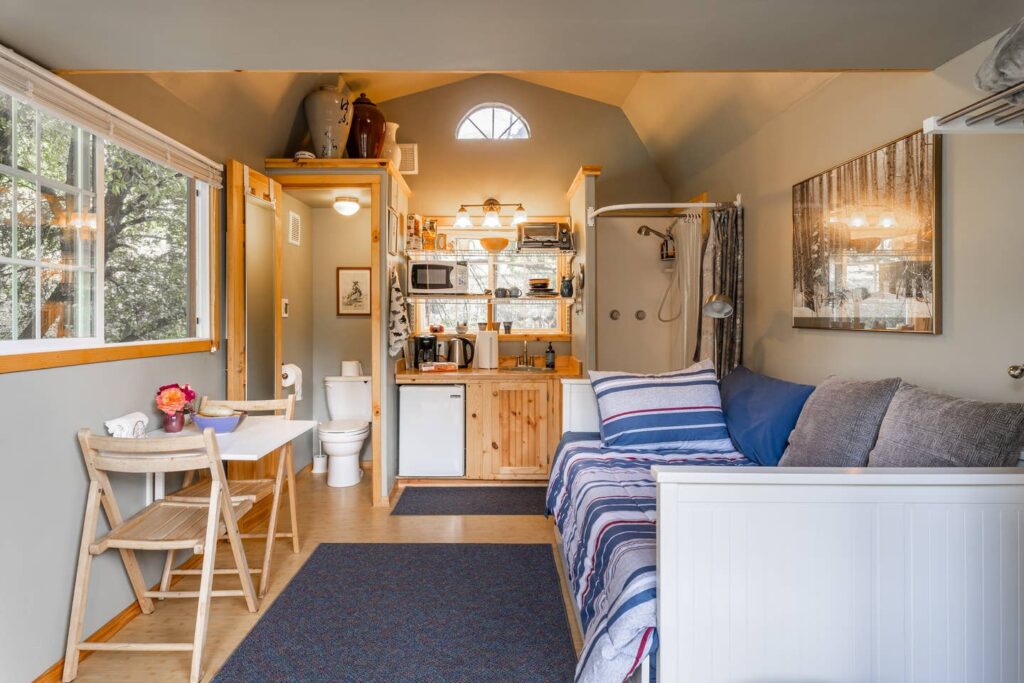 Muir Woods
Remember the speeder chase scenes with the Ewoks in Star Wars: Return of the Jedi? Go to Muir Woods, only a 15-minute drive across the Golden Gate Bridge from San Francisco, and you will instantly feel transported to the forest moon of the Ewoks.
But Muir Woods is in actuality a United States National Monument managed by the National Park Service that protects 240 acres of old growth coast redwood trees, one of the very few remaining places where these hulking, majestic trees can be seen.
The coastal environment along the Pacific Ocean keeps these trees enveloped in a thick, moist layer of fog, providing an optimal atmosphere for the trees to grow. It's not unusual for the weather in surrounding areas of Marin County to be sunny and in the eighty degree range and once you step into the woods, for it to be foggy and in the 50s! So bring a light jacket, fleece or sweatshirt.
Until California's logging industry powered up in the 19th and 20th centuries, much of the Pacific Coast was lined with redwood trees. By the turn of the 20th century, however, loggers had cut most of them down. In 1908, President Theodore Roosevelt provided a permanent sanctuary for these trees by making Muir Woods a national monument.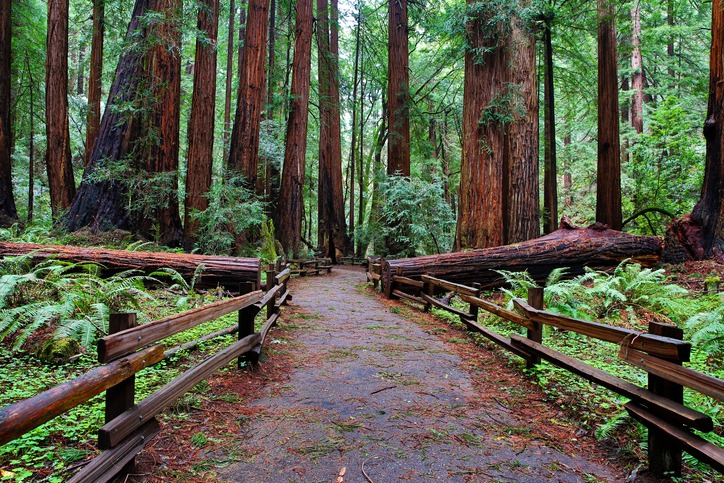 Walk through the many hiking trails of Muir Woods and you will experience a natural wonder. The woods are teeming with all variety of flora and fauna. Signage posted throughout the forest helpfully draw out connections among the different aspects of this complicated, rich ecosystem. The trees are on a massive scale in height and girth, many of them being hundreds of years old, with the oldest having attained at least 1,200 years of age. One tree is so wide, it has a tunnel through it that cars can drive through.
Hungry? While there are in-park concession facilities, we recommend venturing out of the forest into the nearby towns of Mill Valley or Sausalito where you can select from many high quality options.
There are no places to sleep in Muir Woods. But there are many nearby camping sites, hotels and inns throughout Marin County and, of course, in neighboring San Francisco.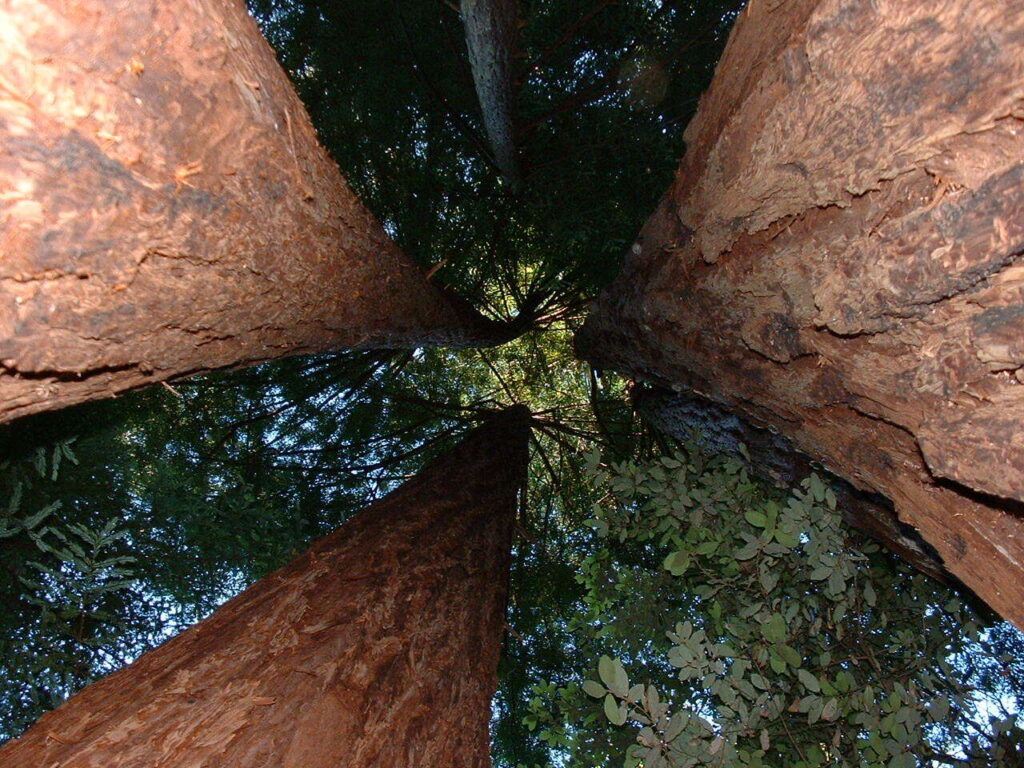 Big Sur
Big Sur Lodge let's you get up close and personal with nature. Expect to see a few wild things right out your front door including turkeys, bobcats, weasels, coyotes and even a gray fox if you're lucky. This is the ideal place to be for people wanting to get an early jump on the hiking. The Pfeiffer Big Sur State Park is a quick 5-10min walk form most of the lodges.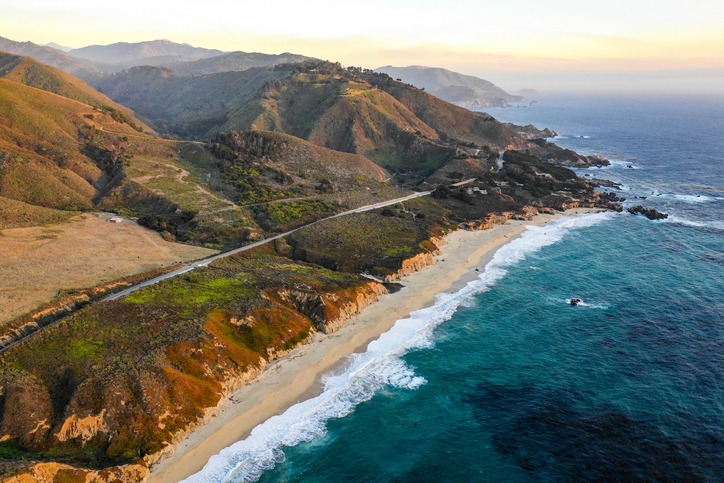 If you have a big event, including a wedding, the lodge can conveniently accommodate shuttle pickups at the lobby. One thing to note about staying here is that cell signal and wifi can be spotty so be sure to make plans and communicate ahead of time.
Just outside of the park, along the North Pacific Ocean, you can see some of the largest mammals on the planet. Humpback and Blue whales can be spotted May through November, Killer whales and elephant seals can be seen all year around, and Gray whales emerge in December through May so there's really no bad time to visit this breathtaking coastline.
A few other state parks to checkout that also allow camping are Julia Pfieffer Burns State Park, Kirk Creek campground and Limelkin State Park.
For a magical little spot to eat that includes drop in cats, a warm friendly atmosphere and mouth watering meals is Fernwood Tavern.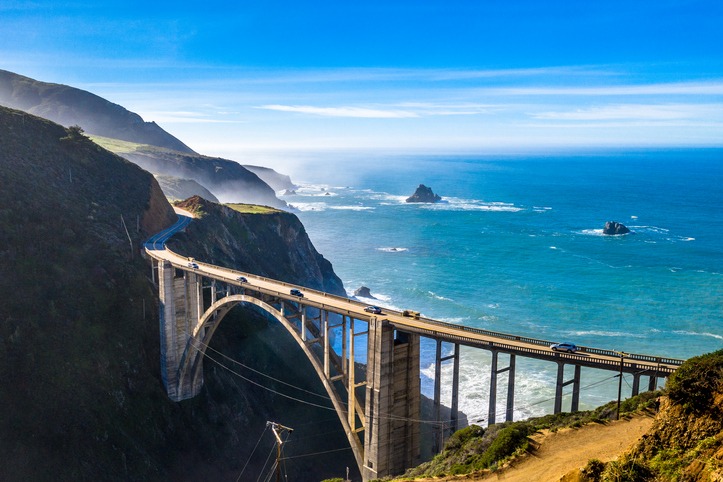 When you drive along the Big Sur coast you will have the chance to get out at many points where you can get out and walk around or take a stunning picture above the cliffs. A rental convertible is a perfect option to be able to take it all in, the clear blue water, tropical trees and sandy beaches. The other side of the drive is lined with rolling green pastures and where you'll see cows roaming or flowers growing.
Want to take a day trip from there? Carmel and San Simeon are just around the corner. Enjoy great eateries and brunch spots in Carmel as well as an unparalleled shopping experience.
Other Blogs:
https://blog.autorentals.com/2020/05/top-4-best-road-trips-to-take-from-new-york-city/