Car Rental | The Safest Travel Option
Rent Sure Series
In these COVID-impacted times, everyone has developed a sense for what they deem "safe." A quick assessment of a situation is often all that is needed to determine one's comfort level. For many travelers, one mode of transportation stands out above all others in eliciting an immediate sense of safety: renting a car. According to a recently released 2020 North America Rental Car Satisfaction Study from J.D. Power, 60,000 airport travelers rated the rental car portion of their trip as the least concerning from a safety standpoint, with only 2% of respondents expressing worries over the safety of the car rental process. Michael Taylor of J.D. Power points to many reasons for this, primary of which, according to Taylor, is "The rental car experience is inherently socially distant." Jennifer Corwin of J.D. Power agreed, adding that those who choose to travel via rental car get the "ability to control the environment around them and to have limited interactions with other people."  This experience stands in sharp contrast to alternative ground transportation options, including taxis, shared rides and public transportation.
Notwithstanding the socially distant nature of car rental, travelers still want to confirm that enhanced cleaning measures are being taken by car rental companies. "The question of vehicle sanitization became the most asked question of us as customers were looking for assurances that these steps had been taken," said Richard Lowden, CEO of the U.K.-based car rental agency Green Motion.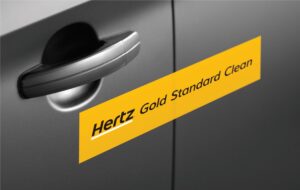 Car Rental companies have responded to the consumer demand for a safe and clean rental experience in various ways, including enhanced sanitization process, mask requirements and contactless pickup and return. For Hertz, and the Dollar and Thrifty brands it also operates, the development of the Hertz Gold Clean Seal is one of the most visually prominent displays of the expanded cleaning procedures.  According to a Hertz representative, the seal is representative of "an enhanced 15-point cleaning and sanitization process that concludes with each vehicle being sealed before each rental to give customers total confidence when they rent a car. Key steps in the 15-point process entail cleaning and sanitizing the interior and exterior of the vehicle, including all contact surfaces, with an EPA-approved disinfectant for use against the virus that causes COVID-19. Sealing each vehicle is a first-of-its-kind practice in the car rental industry and one we believe will give customers added peace of mind knowing they are the only person to enter the vehicle after it's been thoroughly cleaned and sanitized," the Hertz spokesperson said.
Contactless rental options have soared in popularity in response to COVID concerns. At Green Motion, renters are encouraged to use a contactless rental service that, according to Lowden, "dramatically reduces the number of contact points which in turn dramatically reduces the risk of cross contamination." Hertz, on the other hand, offers what one Hertz spokesperson characterized as "a low touch rental experience through our Hertz Gold Plus Rewards loyalty program, which is free to join. Members can skip the counter, go straight to their vehicle and drop off their car and go when they return with our eReceipts and eReturn service."
While a rental car is no doubt a safe choice for an upcoming trip, many destinations are too far flung to reach by car. In those cases, a flight might be necessary. Fortunately, there is good news on that front too. Recent studies have shown that the interior cabin of an airplane contains one of the world's safest ventilation systems. In fact, a recent US Defense Department study revealed a near zero risk of virus exposure where masks usage is enforced. The study found only 44 suspected cases of on-board transmission, relative to a billion pandemic-era enplanements. Airlines are enforcing mask requirements, as well as many leaving the middle seat open for further distancing.
While traveling may not be in the immediate plans for some, travel planning will hopefully return with more force as vaccines are rolled out and travelers look forward to returning to their favorite destinations.
Various studies, research and general questions have been presented around the risk related to renting a car.  MIT, Good Housekeeping and Business Insider, among others, are good resources to learn more.