What to Expect for Memorial Day and Summer Car Rentals
Car Rentals for Summer and Memorial Day
$300 a day rental cars.  A Uhaul as a replacement for a compact car (in Hawaii).  No cars available to rent in the most popular destinations like Orlando and Las Vegas.  It was a crazy time to be a rental car customer during the 2021 United States Spring Break and Easter holiday.  An unexpected increase in demand coupled with limited inventory due to multiple reasons led to historically high rates. With the bulk of Spring Break travel now in the rearview, the most frequent question presented to AutoRentals.com is: What will Memorial Day and the Summer look like for rental cars?
Our prediction?
Demand will grow.  Inventory will improve.  Renters will be more savvy.  Higher than average rates will be around through at least the peak summer season and availability will remain tight, especially in Florida and Hawaii.
Demand Will Grow
As the number of Americans who are vaccinated continues to increase and availability to these vaccines is now opened up to all adults, the thought of traveling is a more welcome prospect than was previously. Loosened COVID restrictions, both in terms of testing and quarantines, and capacity limits at businesses and venues also increase the willingness of the public to travel.  Finally, after a year or more of only dreaming of travel, the pent-up demand is resulting in "revenge travel" with many booking multiple or lavish trips.  Interest in the term "Airport Car Rental" has recovered recently, even outpacing early 2020 search volume.  The chart below from Google Trends outlines the recent surge in searches.

Inventory Will Improve
Car rental companies have been hesitant to fully fleet up ahead of seeing demand bounce back.  The travel cancellations of last year, combined with the lack of renters, forced rental car companies to aggressively reduce their fleet.  While the Spring travel season showed signs of promise, almost every company was surprised by the eventual number of renters; especially in popular, sunny destinations.  With a few months to prepare for the true Summer season, these same companies can do their best to increase fleet to better meet demand.  Most already put in their orders for the Summer earlier in the year, and did so with less hesitation than the Spring orders.  However, increased competition for vehicles through traditional, auction and non-traditional channels, along with limitations in manufacturing, may ultimately produce a smaller than desired total fleet count.
Renters Will Be More Savvy
Flight, hotel, car.  When making travel reservations, this is most one of the more frequently used orders of priority.  With car rental pricing and availability in the news and many travelers personally experiencing the tightening of inventory, renters will be more savvy when it comes to booking their rental car.  The car rental portion of the trip may be what decides the itinerary, instead of the flight.  And, once travel dates are chosen, the rental car may be what is reserved first.  Renters should also follow the advice we laid out recently on alternative booking options (try different dates, search for alternative locations and BOOK NOW!).
Rates Will Remain Historically High
Memorial Day and the Summer season will continue to produce historically high rental car rates.  The best response is to reserve your rental car early and cancel if you need to.  Most pay on arrival rates are fully cancellable if your travel plans change.  Gone are the days of reserving your rental car the day before, or even just showing up at your destination and finding the best deal – at least for this Summer.  Our internal data shows that prices are continuing to climb as the pickup day arrives.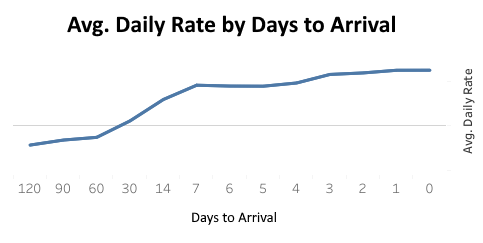 Our final piece of advice?  No surprise here.  As soon as you begin travel planning, search for your rental car first and book early!